Best 1984 Adventures (8)
By: Joshua Glenn
January 10, 2020
One in a series of 10 posts identifying Josh Glenn's favorite 1984 adventure novels.
*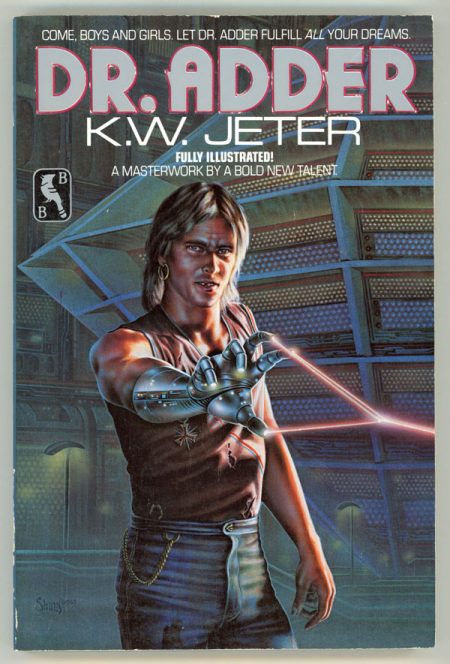 K.W. Jeter's Diamond Age sci-fi adventure Dr. Adder.
Jeter's debut novel was written in 1972, the year that Pink Flamingos — John Waters's trashy, hyperbolic, violent movie that notoriously features a live chicken being crushed between copulating weirdos — was released. Dr. Adder wasn't published until 1984, because of the weird sex (it begins in a mutated-chicken-whore brothel managed by our protagonist, the disaffected Limmit) and hyperbolic violence, at which point it gained a cult following. It has been hailed as perhaps the first cyberpunk novel, which to me suggests that John Waters is the godfather of cyberpunk! The titular Dr. Adder is a Doctor Moreau-like surgeon who dwells in the ruins of future Los Angeles, reshaping the body parts of Orange County's perverted teen runaways. Adder has become an unlikely symbol of freedom to LA and OC denizens, who are oppressed by the puritanism of John Mox, a financial titan and would-be ayatollah — whose daily TV sermons are opposed by the freaky ramblings of DJ KCID, a pirate-radio operator. What does the Internet-like space occupied by Mox and KCID have to do with the Interface, LA's seediest neighborhood? Once a WMD-toting Limmit comes to town, we'll find out. Dr. Adder is often funny, but it's also misogynistic and disturbing.
Fun facts: The character KCID is modeled after Jeter's friend, the legendary sci-fi author Philip K. Dick. Dick contributed an Afterword to Dr. Adder, in which he claimed that had its publication not been delayed, its impact on science fiction would have been enormous.
***
JOSH GLENN'S *BEST ADVENTURES* LISTS: BEST 250 ADVENTURES OF THE 20TH CENTURY | 100 BEST OUGHTS ADVENTURES | 100 BEST RADIUM AGE (PROTO-)SCI-FI ADVENTURES | 100 BEST TEENS ADVENTURES | 100 BEST TWENTIES ADVENTURES | 100 BEST THIRTIES ADVENTURES | 75 BEST GOLDEN AGE SCI-FI ADVENTURES | 100 BEST FORTIES ADVENTURES | 100 BEST FIFTIES ADVENTURES | 100 BEST SIXTIES ADVENTURES | 75 BEST NEW WAVE SCI FI ADVENTURES | 100 BEST SEVENTIES ADVENTURES | 100 BEST EIGHTIES ADVENTURES | 75 BEST DIAMOND AGE SCI-FI ADVENTURES | 100 BEST NINETIES ADVENTURES (in progress) | 1994 | 1995 | 1996 | 1997 | 1998 | 1999 | 2000 | 2001 | 2002 | 2003 | NOTES ON 21st-CENTURY ADVENTURES.