Best 1984 Adventures (7)
By: Joshua Glenn
January 9, 2020
One in a series of 10 posts identifying Josh Glenn's favorite 1984 adventure novels.
*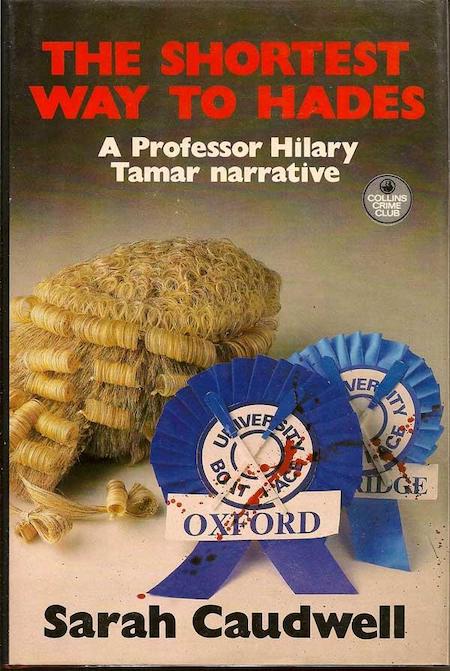 Sarah Caudwell's Hilary Tamar crime adventure The Shortest Way to Hades.
In her second and most entertaining outing, Hilary Tamar, a snobbish Oxford professor of Legal History, is called in by former students — Cantrip, Ragwort, Selina and Julia, the junior members of a London legal firm — to investigate the drowning death of a young woman. The victim, it seems, had stood in the way of her beautiful cousin Camilla's inheritance. Was she murderered? Tamar flies to the Greek island of Corfu, where the drowning took place; the Edmund Crispin-like farcical murder mystery involves not only arcane aspects of British inheritance law but erudite interpretations of Greek mythology. The cool-headed Selena narrates much of the adventure. At one point, finding herself at an orgy, Selena instead produces a copy of Pride and Prejudice and begins to read it. The book is drily witty, never more so than when it reverse gender stereotypes; for example: "Young men … like to be thought of as people, not as mere physical objects: you should therefore begin by seeming to admire their fine souls and splendid intellects and showing a warm interest in their hopes, dreams and aspirations."
Fun facts: Sarah Caudwell was the pseudonym of barrister and insurance exec Sarah Cockburn, who wrote three other Hilary Tamar novels — Thus Was Adonis Murdered, The Sirens Sang of Murder, The Sibyl in Her Grave.
***
JOSH GLENN'S *BEST ADVENTURES* LISTS: BEST 250 ADVENTURES OF THE 20TH CENTURY | 100 BEST OUGHTS ADVENTURES | 100 BEST RADIUM AGE (PROTO-)SCI-FI ADVENTURES | 100 BEST TEENS ADVENTURES | 100 BEST TWENTIES ADVENTURES | 100 BEST THIRTIES ADVENTURES | 75 BEST GOLDEN AGE SCI-FI ADVENTURES | 100 BEST FORTIES ADVENTURES | 100 BEST FIFTIES ADVENTURES | 100 BEST SIXTIES ADVENTURES | 75 BEST NEW WAVE SCI FI ADVENTURES | 100 BEST SEVENTIES ADVENTURES | 100 BEST EIGHTIES ADVENTURES | 75 BEST DIAMOND AGE SCI-FI ADVENTURES | 100 BEST NINETIES ADVENTURES (in progress) | 1994 | 1995 | 1996 | 1997 | 1998 | 1999 | 2000 | 2001 | 2002 | 2003 | NOTES ON 21st-CENTURY ADVENTURES.