Best 1984 Adventures (4)
By: Joshua Glenn
January 6, 2020
One in a series of 10 posts identifying Josh Glenn's favorite 1984 adventure novels.
*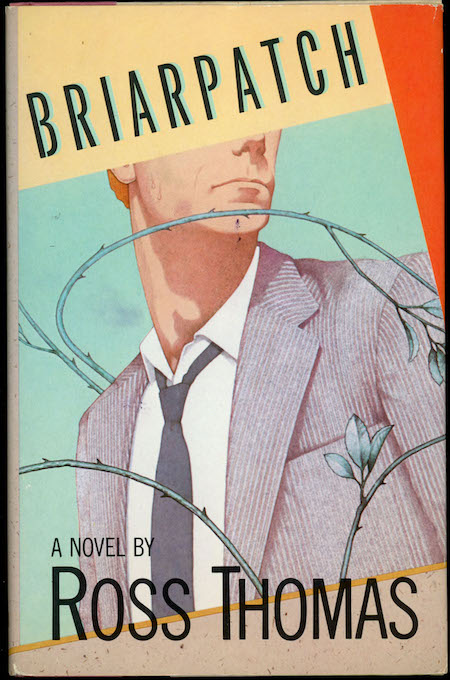 Ross Thomas's political thriller Briarpatch
Benjamin "Pick" Dill, a Washington, DC-based investigator working for a U.S. Senate investigations subcommittee, returns to his (unnamed, Oklahoma City-like) hometown when his sister Felicity, a homicide detective, is killed in a car bombing. While he's there, Dill is also tasked with taking a deposition from his boyhood friend Jake Spivey, an ex-CIA op who — in the aftermath of the Vietnam War — made an illicit fortune as an arms dealer. Spivey, it seems, is the only person who can take down Clyde Brattle, another ex-Agency man who is suspected of having committed crimes against the state. Dill discovers evidence suggesting that his sister was a crooked cop, but he doesn't believe it. His investigation brings him into contact with his sister's friend Anna Maud Singe, a beautiful lawyer, who is convinced of Felicity's innocence; and with Felicity's boss, the chief of detectives, who is not so sure. The titular briarpatch is Spivey's mansion, which is guarded by a trio of Mexican thugs. Several homicides ensue. Who's to blame — the friendly ex-spook, the sinister ex-spook, or someone else?
Fun facts: Briarpatch was awarded the 1985 Edgar for Best Novel. The USA Network has adapted the novel as a TV show, which will debut in February 2020; it stars Rosario Dawson, cast as the returning investigator.
***
JOSH GLENN'S *BEST ADVENTURES* LISTS: BEST 250 ADVENTURES OF THE 20TH CENTURY | 100 BEST OUGHTS ADVENTURES | 100 BEST RADIUM AGE (PROTO-)SCI-FI ADVENTURES | 100 BEST TEENS ADVENTURES | 100 BEST TWENTIES ADVENTURES | 100 BEST THIRTIES ADVENTURES | 75 BEST GOLDEN AGE SCI-FI ADVENTURES | 100 BEST FORTIES ADVENTURES | 100 BEST FIFTIES ADVENTURES | 100 BEST SIXTIES ADVENTURES | 75 BEST NEW WAVE SCI FI ADVENTURES | 100 BEST SEVENTIES ADVENTURES | 100 BEST EIGHTIES ADVENTURES | 75 BEST DIAMOND AGE SCI-FI ADVENTURES | 100 BEST NINETIES ADVENTURES (in progress) | 1994 | 1995 | 1996 | 1997 | 1998 | 1999 | 2000 | 2001 | 2002 | 2003 | NOTES ON 21st-CENTURY ADVENTURES.