Best 1984 Adventures (3)
By: Joshua Glenn
January 5, 2020
One in a series of 10 posts identifying Josh Glenn's favorite 1984 adventure novels.
*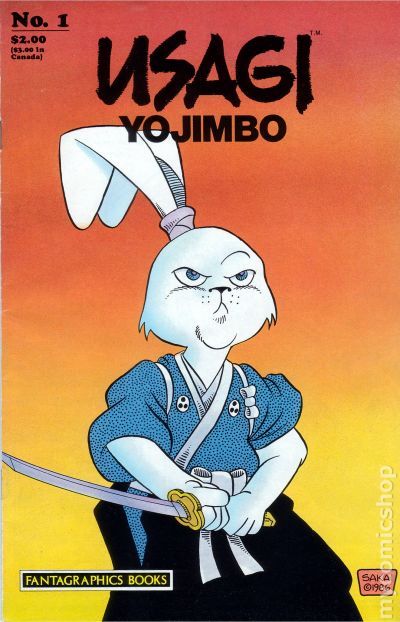 Stan Sakai's talking-animal ronin comic Usagi Yojimbo (serialized 1984 – present).
Miyamoto Usagi, a masterless samurai (that is to say, a ronin), roams a civil war-plagued 17th-century Japan, contending and cooperating with anthropomorphic cats, snakes, and other creatures — such as the evil Lord Hikiji, a rhino bounty hunter, a blind sword-pig, and the occasional ninja mole. Sakai, a Japanese-born American cartoonist who formerly worked on Sergio Aragone's Groo, inserts his perapatetic rabbit yojimbo (bodyguard) into fanciful Japanese myths and legends… with plenty of references to his favorite samurai movies. I wasn't attracted to Usagi Yojimbo when it first appeared, I think primarily because it was in black and white — and it seemed cutesy. Now, however, I appreciate its blend of humor, violence, and heartfelt emotion. The landscapes are beautifully rendered, the architecture and costumes appear to be faithfully rendered, the mythical creatures are fun, and the serial installments in Usagi's musha shugyō (warrior's pilgrimage) is gripping. Over the years, Sakai has given us long extended storylines and a few novel-length narratives; on the whole, I prefer to episodic stories — which are the most like a Kurosawa movie.
Fun facts: Miyamoto Usagi, whom Sakai based partially on the famous swordsman Miyamoto Musashi, first appeared in the 1984 anthology Albedo Anthropomorphics in 1984, before landing his own series in 1987. The Usagi Yojimbo saga has been pubished by Fantagraphics, Mirage, and Dark Horse. Usagi, by the way, is Japanese for "rabbit."
***
JOSH GLENN'S *BEST ADVENTURES* LISTS: BEST 250 ADVENTURES OF THE 20TH CENTURY | 100 BEST OUGHTS ADVENTURES | 100 BEST RADIUM AGE (PROTO-)SCI-FI ADVENTURES | 100 BEST TEENS ADVENTURES | 100 BEST TWENTIES ADVENTURES | 100 BEST THIRTIES ADVENTURES | 75 BEST GOLDEN AGE SCI-FI ADVENTURES | 100 BEST FORTIES ADVENTURES | 100 BEST FIFTIES ADVENTURES | 100 BEST SIXTIES ADVENTURES | 75 BEST NEW WAVE SCI FI ADVENTURES | 100 BEST SEVENTIES ADVENTURES | 100 BEST EIGHTIES ADVENTURES | 75 BEST DIAMOND AGE SCI-FI ADVENTURES | 100 BEST NINETIES ADVENTURES (in progress) | 1994 | 1995 | 1996 | 1997 | 1998 | 1999 | 2000 | 2001 | 2002 | 2003 | NOTES ON 21st-CENTURY ADVENTURES.