Best 1984 Adventures (2)
By: Joshua Glenn
January 4, 2020
One in a series of 10 posts identifying Josh Glenn's favorite 1984 adventure novels.
*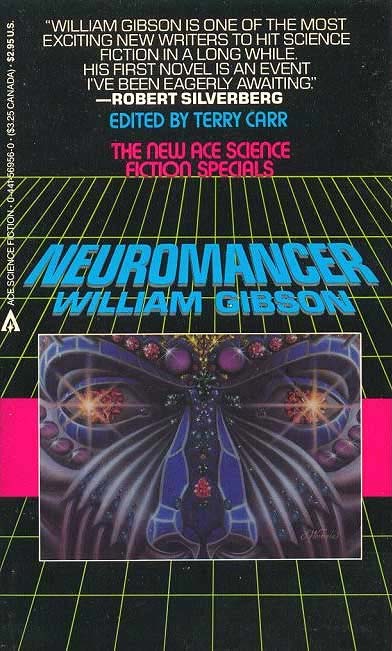 William Gibson's Diamond Age sci-fi adventure Neuromancer.
William Gibson may not have invented "cyberspace," prototypes of which we can find in James Tiptree Jr.'s The Girl Who Was Plugged In (1973) and John Brunner's The Shockwave Rider (1975), but he coined the term; and Neuromancer — which describes cyberspace as "a consensual hallucination experienced daily by billions of legitimate operators, in every nation, by children being taught mathematical concepts […] A graphic representation of data abstracted from banks of every computer in the human system […] Lines of light ranged in the nonspace of the mind, clusters and constellations of data" — single-handedly popularized the concept. Case (a computer hacker), Molly Millions (a cyborg mercenary), and Peter (a thief and illusionist) are hired by a mysterious employer to commit a series of virtual-reality crimes that eventually lead to their assault on an orbiting data-fortress that houses two vastly powerful AIs. The plot is thrilling, but it's the novel's endstage-of-capitalism context — a near-future dystopian world dominated by corporations and inescapable technology, Chandler-esque noir cityscapes populated by colorful lowlifes, a virtual reality global network known as "the Matrix" — that earned it a richly deserved cult following. It's an extraordinary debut novel, well worth revisiting.
Fun facts: Neuromancer was the first novel to win the Nebula, the Philip K. Dick, and the Hugo Awards. Its sequels are Count Zero (1986) and Mona Lisa Overdrive (1988). Tim Miller, who made the Deadpool movie, has signed on to direct the film adaptation, currently in development.
***
JOSH GLENN'S *BEST ADVENTURES* LISTS: BEST 250 ADVENTURES OF THE 20TH CENTURY | 100 BEST OUGHTS ADVENTURES | 100 BEST RADIUM AGE (PROTO-)SCI-FI ADVENTURES | 100 BEST TEENS ADVENTURES | 100 BEST TWENTIES ADVENTURES | 100 BEST THIRTIES ADVENTURES | 75 BEST GOLDEN AGE SCI-FI ADVENTURES | 100 BEST FORTIES ADVENTURES | 100 BEST FIFTIES ADVENTURES | 100 BEST SIXTIES ADVENTURES | 75 BEST NEW WAVE SCI FI ADVENTURES | 100 BEST SEVENTIES ADVENTURES | 100 BEST EIGHTIES ADVENTURES | 75 BEST DIAMOND AGE SCI-FI ADVENTURES | 100 BEST NINETIES ADVENTURES (in progress) | 1994 | 1995 | 1996 | 1997 | 1998 | 1999 | 2000 | 2001 | 2002 | 2003 | NOTES ON 21st-CENTURY ADVENTURES.