Best 1984 Adventures (1)
By: Joshua Glenn
January 2, 2020
One in a series of 10 posts identifying Josh Glenn's favorite 1984 adventure novels.
*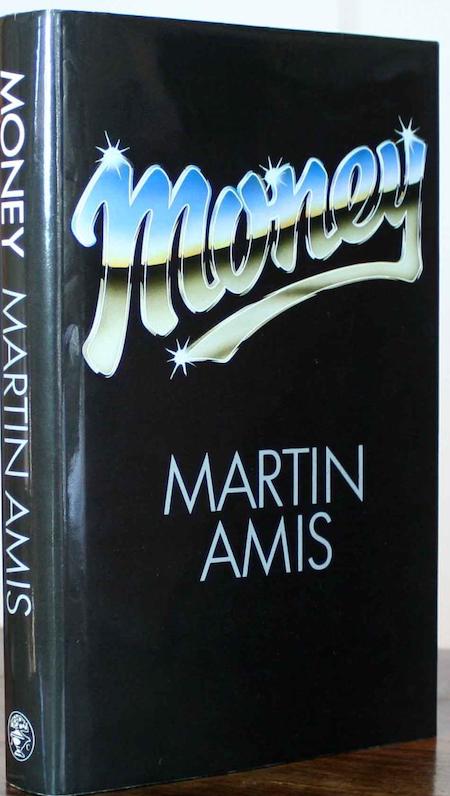 Martin Amis's picaresque/crime adventure Money.
Subtitled A Suicide Note, Amis's fifth novel concerns the misadventures of John Self, a vile British director of TV ads who heads to New York to shoot a film. Set in the summer of 1981, with the Brixton riots and the royal wedding going on in the background, it's a novel about how pear-shaped and porno-fied American culture has become, and how Americanized British culture has become. (Self eats a lot of fast food, with monikers like Rumpburger, Big Thick Juicy Hot One, and Long Whopper.) Everything goes wrong with the shoot — one begins to suspect that Fielding Goodney, the producer, is for some reason intentionally sabotaging things. But Self doesn't need any help getting into trouble. His eating, drinking, pill-popping, smoking, whoring, gambling, shitting, and — above all else — spending spiral out of control. As with London Fields, Amis's 1989 murder mystery, Money is a blackly comic puzzle — the twisted lineaments of which we cannot begin to comprehend until the novel's surprise denouement. Nothing is as it seems. An arrogant character, a novelist named Martin Amis who lives nearby in Notting Hill, appears as a kind of confidant in Self's final breakdown; Self himself is not himself! What he is, is: misanthropic, misogynistic, and quite amusing. He's a Kingsley Amis character without any restraints.
Fun facts: Time Magazine named Money one of the top 100 novels of all time. It was adapted as a two-part TV series — starring the excellent Nick Frost as John Self — by the BBC in 2010.
***
JOSH GLENN'S *BEST ADVENTURES* LISTS: BEST 250 ADVENTURES OF THE 20TH CENTURY | 100 BEST OUGHTS ADVENTURES | 100 BEST RADIUM AGE (PROTO-)SCI-FI ADVENTURES | 100 BEST TEENS ADVENTURES | 100 BEST TWENTIES ADVENTURES | 100 BEST THIRTIES ADVENTURES | 75 BEST GOLDEN AGE SCI-FI ADVENTURES | 100 BEST FORTIES ADVENTURES | 100 BEST FIFTIES ADVENTURES | 100 BEST SIXTIES ADVENTURES | 75 BEST NEW WAVE SCI FI ADVENTURES | 100 BEST SEVENTIES ADVENTURES | 100 BEST EIGHTIES ADVENTURES | 75 BEST DIAMOND AGE SCI-FI ADVENTURES | 100 BEST NINETIES ADVENTURES (in progress) | 1994 | 1995 | 1996 | 1997 | 1998 | 1999 | 2000 | 2001 | 2002 | 2003 | NOTES ON 21st-CENTURY ADVENTURES.