Best 1979 Adventures (9)
By: Joshua Glenn
December 13, 2019
One in a series of 10 posts identifying Josh Glenn's favorite 1979 adventure novels.
*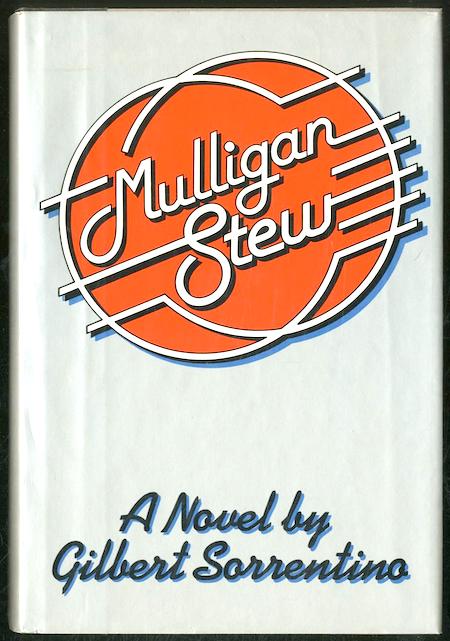 Gilbert Sorrentino's meta-fictional adventure Mulligan Stew.
In Flann O'Brien's 1939 metafictional masterpiece At Swim-Two-Birds, Antony Lamont is a character invented by Dermot Trellis, a cynical writer of Westerns and himself a character invented by O'Brien's unnamed protagonist; Lamont and some of Trellis's other characters become resentful of his godlike authority over their lives, and work to subvert his control. Here, Lamont reappears as the pompous, self-deluded, Sorrentino-esque author of Three Deuces, an avant-garde but poorly written crime novel. Struggling to write a new-wave murder mystery, currently titled Guinea Red, Lamont doesn't at first comprehend that his own characters — whom he's borrowed from F. Scott Fitzgerald, James Joyce, and Dashiell Hammett — have lives of their own. They're not fans of the roles they've been forced to play; they're particularly unhappy with being forced to mouth and enact unspeakable clichés. Sorrentino's MS is a brilliant, witty, weird farrago; it helps to know something about the authors being referenced, not to mention the New York literary scene of the 1960s–1970s. Yes, it can be bewildering to navigate the journal entries, love letters, interviews, erotic poetry (for Lamont to review), parodies, advertisements, academic journal writing, and interminable lists, but stick around for the intentionally, hilariously poor writing. Is it an adventure? Not exactly — though it's about reading and writing adventures, which is close enough for me.
Fun facts: The Joycean literary critic Hugh Kenner wrote, of Mulligan Stew, "for another such virtuoso of the List you'd have to resurrect Joyce." The book's title is a punning allusion to the character Buck Mulligan in Ulysses. Sorrentino began the novel in late 1971 (it's very much a product of the Sixties, that is) and finished it in early 1975; after many rejections, he sold the book to Grove Press in 1978.
***
JOSH GLENN'S *BEST ADVENTURES* LISTS: BEST 250 ADVENTURES OF THE 20TH CENTURY | 100 BEST OUGHTS ADVENTURES | 100 BEST RADIUM AGE (PROTO-)SCI-FI ADVENTURES | 100 BEST TEENS ADVENTURES | 100 BEST TWENTIES ADVENTURES | 100 BEST THIRTIES ADVENTURES | 75 BEST GOLDEN AGE SCI-FI ADVENTURES | 100 BEST FORTIES ADVENTURES | 100 BEST FIFTIES ADVENTURES | 100 BEST SIXTIES ADVENTURES | 75 BEST NEW WAVE SCI FI ADVENTURES | 100 BEST SEVENTIES ADVENTURES | 100 BEST EIGHTIES ADVENTURES | 75 BEST DIAMOND AGE SCI-FI ADVENTURES | 100 BEST NINETIES ADVENTURES (in progress) | 1994 | 1995 | 1996 | 1997 | 1998 | 1999 | 2000 | 2001 | 2002 | 2003 | NOTES ON 21st-CENTURY ADVENTURES.