Best 1979 Adventures (6)
By: Joshua Glenn
December 10, 2019
One in a series of 10 posts identifying Josh Glenn's favorite 1979 adventure novels.
*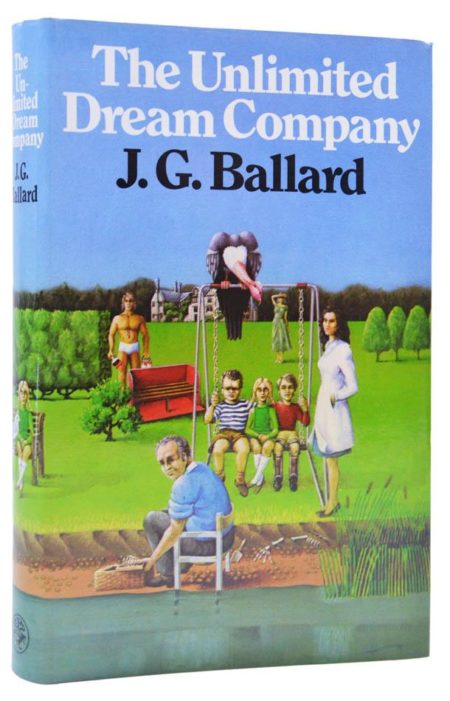 J.G. Ballard's fantasy adventure The Unlimited Dream Company.
"If the doors of perception were cleansed," declaimed William Blake, in a phrase that would inspire everyone from Aldous Huxley to Jim Morrison, "every thing would appear to man as it is, Infinite." Bidding farewell to the transgressive sci-fi — e.g., Crash (1973), Concrete Island (1974), High Rise (1975) — for which he'd become infamous, here Ballard explores the tenuous, constructed nature of reality and the self. Blake, a failed writer and would-be mercenary, steals a light aircraft… and crashes it into a river by Shepperton, the London suburb where Ballard himself was living. As with all Ballardian catastrophes, the crash liberates our protagonist from repressive British forms and norms; the possibilities of the Shepperton into which Blake staggers are limited only by his own (sociopathic, pornographic, increasingly messianic) imagination. He wanders from hallucinatory scenario to hallucinatory scenario, remaking the world as he goes. He enjoys sexual congress with men, women, flora and fauna; he evolves into a godling equally capable of destruction and creation. The writing is often lyrical, while some of Blake's fantasies are disturbing or downright sick. Why can't he escape Shepperton? What are his responsibilities to others? Will he ever reunite with Miriam St. Cloud, the woman he loves?
Fun facts: Nominated for the John W. Campbell Memorial Award, The Unlimited Dream Company won the British Science Fiction Association Award. Malcolm Bradbury said, at the time, that it is "heady stuff, a dreamy pastoral, but Mr. Ballard sustains it from a well-funded imagination, a prolix style and a great mythical sense."
***
JOSH GLENN'S *BEST ADVENTURES* LISTS: BEST 250 ADVENTURES OF THE 20TH CENTURY | 100 BEST OUGHTS ADVENTURES | 100 BEST RADIUM AGE (PROTO-)SCI-FI ADVENTURES | 100 BEST TEENS ADVENTURES | 100 BEST TWENTIES ADVENTURES | 100 BEST THIRTIES ADVENTURES | 75 BEST GOLDEN AGE SCI-FI ADVENTURES | 100 BEST FORTIES ADVENTURES | 100 BEST FIFTIES ADVENTURES | 100 BEST SIXTIES ADVENTURES | 75 BEST NEW WAVE SCI FI ADVENTURES | 100 BEST SEVENTIES ADVENTURES | 100 BEST EIGHTIES ADVENTURES | 75 BEST DIAMOND AGE SCI-FI ADVENTURES | 100 BEST NINETIES ADVENTURES (in progress) | 1994 | 1995 | 1996 | 1997 | 1998 | 1999 | 2000 | 2001 | 2002 | 2003 | NOTES ON 21st-CENTURY ADVENTURES.