Best 1974 Adventures (5)
By: Joshua Glenn
November 10, 2019
One in a series of 10 posts identifying Josh Glenn's favorite 1974 adventure novels.
*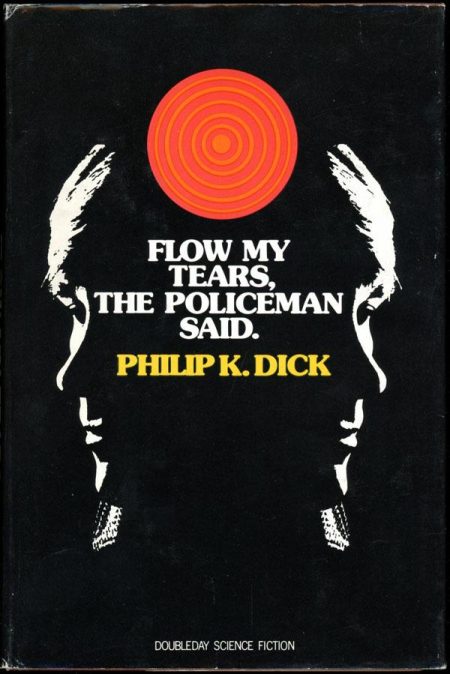 Philip K. Dick's New Wave sci-fi adventure Flow My Tears, the Policeman Said (1974).
A typically dystopian, disorienting, and dashed-off Philip K. Dick joint — but one which is more emotionally resonant than his Fifties and Sixties oeuvre; in this sense, Flow My Tears points the way forward to Dick's late masterpieces, A Scanner Darkly (1977) and VALIS (1981). The year is 1988; in the aftermath of a Civil War, the USA has become a police state; African-Americans have been all but exterminated; college students have become underground guerrillas; people use their smartphones to seek hook-ups (via the Phone-Grid Transex Network) and advice (via Cheerful Charlie, an app); and recreational drug use has been normalized. When a crazed ex-lover sics a "gelatinlike Callisto cuddle sponge" on Jason Taverner, the famous pop star ("Nowhere Nuthin' Fuck-up" is his latest hit) and TV host wakes up in a motel to discover that… no one knows who he is. Taverner takes drugs, seeks assistance from a series of women — an unstable old flame; a leather-clad lesbian; a sweet-tempered potter — and desperately attempts to figure out what might have caused him to become a non-person. The titular policeman? He's the twin brother and lover of the leather-clad lesbian, and a powerful authority figure who learns an important lesson in humility and empathy for others.
Fun facts: Winner of the John W. Campbell Memorial Award for Best Science Fiction Novel in 1975. Dick would later parody this novel, in VALIS, as The Android Cried Me a River.
***
JOSH GLENN'S *BEST ADVENTURES* LISTS: BEST 250 ADVENTURES OF THE 20TH CENTURY | 100 BEST OUGHTS ADVENTURES | 100 BEST RADIUM AGE (PROTO-)SCI-FI ADVENTURES | 100 BEST TEENS ADVENTURES | 100 BEST TWENTIES ADVENTURES | 100 BEST THIRTIES ADVENTURES | 75 BEST GOLDEN AGE SCI-FI ADVENTURES | 100 BEST FORTIES ADVENTURES | 100 BEST FIFTIES ADVENTURES | 100 BEST SIXTIES ADVENTURES | 75 BEST NEW WAVE SCI FI ADVENTURES | 100 BEST SEVENTIES ADVENTURES | 100 BEST EIGHTIES ADVENTURES | 75 BEST DIAMOND AGE SCI-FI ADVENTURES | 100 BEST NINETIES ADVENTURES (in progress) | 1994 | 1995 | 1996 | 1997 | 1998 | 1999 | 2000 | 2001 | 2002 | 2003 | NOTES ON 21st-CENTURY ADVENTURES.