Best 1959 Adventures (7)
By: Joshua Glenn
October 4, 2019
One in a series of 10 posts identifying Josh Glenn's favorite 1959 adventure novels.
*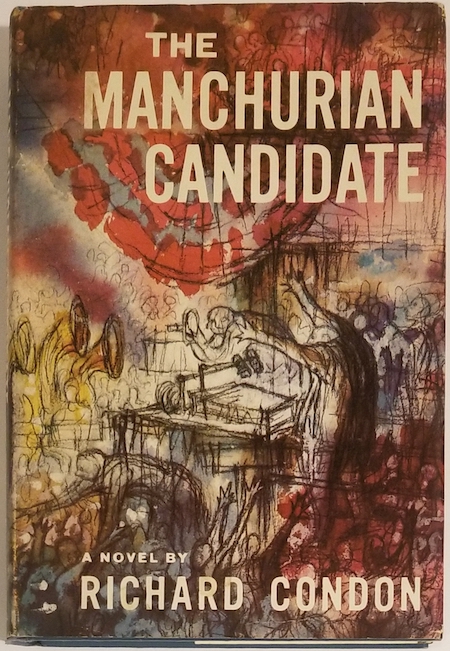 Richard Condon's political thriller The Manchurian Candidate.
Several years after Bennett Marco, Raymond Shaw, and the rest of their Korean War infantry platoon were captured by a Soviet commando unit and held captive in Manchuria, Marco suffers from a recurring nightmare. In it, sweet little old ladies, who are somehow also Chinese and Soviet officials, command Shaw to murder two of his comrades. But Shaw is a hero; and those two men died in combat… right? Marco — now an Army Intelligence officer — looks up Shaw, whose stepfather is a prominent McCarthy-esque politican, Senator Johnny Iselin — and the two men become friendly. Marco gets involved with a supportive woman, Rose, while Raymond falls for the girl next door. Jocelyn is the daughter of Senator Jordan, a political foe of Iselin's; Raymond's ambitious, domineering mother Eleanor disapproves… but Raymond continues to see Jocelyn. Meanwhile, Marco uncovers an audacious plot — backed by the Communist powers — to install an American president of their choosing, who will become their stooge! Raymond is an unwitting participant in this nefarious scheme. Can Marco get to the bottom of the plot before it's too late for Raymond… and America? Condon's prose style is strong medicine; there are verbal pyrotechnics to complement the mind-bending plot.
Fun facts: Several passages of the novel, it has been suggested, were plagiarized from Robert Graves's 1934 novel I, Claudius. The Manchurian Candidate was adapted by John Frankenheimer as an excellent 1962 movie starring Frank Sinatra, Laurence Harvey and Janet Leigh, with Angela Lansbury in a chilling role. There is also a 2004 remake starring Denzel Washington.
***
JOSH GLENN'S *BEST ADVENTURES* LISTS: BEST 250 ADVENTURES OF THE 20TH CENTURY | 100 BEST OUGHTS ADVENTURES | 100 BEST RADIUM AGE (PROTO-)SCI-FI ADVENTURES | 100 BEST TEENS ADVENTURES | 100 BEST TWENTIES ADVENTURES | 100 BEST THIRTIES ADVENTURES | 75 BEST GOLDEN AGE SCI-FI ADVENTURES | 100 BEST FORTIES ADVENTURES | 100 BEST FIFTIES ADVENTURES | 100 BEST SIXTIES ADVENTURES | 75 BEST NEW WAVE SCI FI ADVENTURES | 100 BEST SEVENTIES ADVENTURES | 100 BEST EIGHTIES ADVENTURES | 75 BEST DIAMOND AGE SCI-FI ADVENTURES | 100 BEST NINETIES ADVENTURES (in progress) | 1994 | 1995 | 1996 | 1997 | 1998 | 1999 | 2000 | 2001 | 2002 | 2003 | NOTES ON 21st-CENTURY ADVENTURES.