Best 1959 Adventures (5)
By: Joshua Glenn
September 24, 2019
One in a series of 10 posts identifying Josh Glenn's favorite 1959 adventure novels.
*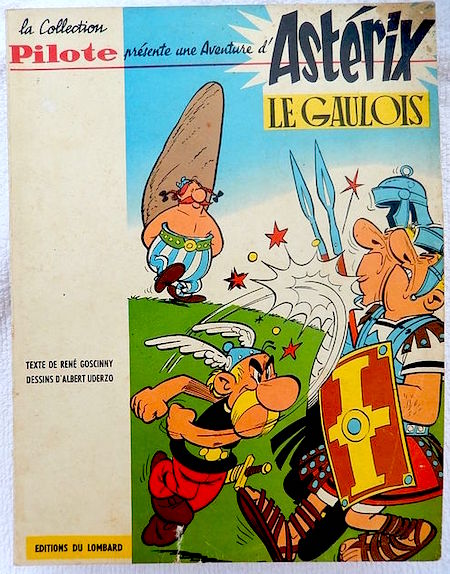 René Goscinny and Albert Uderzo's Asterix comic Astérix le Gaulois (Asterix the Gaul, serialized 1959; as an album, 1962).
In 1958 Goscinny, who in the late 1940s had shared a New York studio with future MAD contributors Will Elder, Jack Davis and Harvey Kurtzman, and Uderzo began serializing Oumpah-pah — a cartoon about an American Indian whose village was bravely holding out against the palefaces — in the Franco-Belgian comics magazine Tintin. The following year, the two men became editor and artistic director of Pilote magazine, which was intended to appeal to adults as much as to children. Here, they introduced a cartoon about Astérix, a Gaul whose village was bravely holding out against the Roman occupiers. (Vercingetorix, leader of the Gauls in a notable rebellion against Julius Caesar in the late 50s BC, is revered in France as the original French resistance fighter.) Centurion Crismus Bonus, commander of a Roman garrison at the fortified camp of Compendium, sends a spy disguised as a Gaul into Astérix's village — to discover the secret of their indomitability. When the spy reports that the Gaul's druid, Getafix (Panoramix in the original French version), brews a potion conferring magical strength on its users, the druid is kidnapped; Astérix sneaks into the Roman camp, and he and Getafix play pranks on the Romans… until Caesar himself arrives! The combination of sophisticated word-play, historical and contemporary social and political commentary, slapstick comedy and violent punch-ups is irrestisible; the series was an immediate success. In this story, we also meet the characters Obelix, Vitalstatistix, Cacofonix (Assurancetourix), and others for the first time — it's fun to observe how they've evolved.
Fun facts: In France, Astérix is the most popular comic of all time — more so than Tintin, even. (When Goscinny died in 1977, it was, in the words of one French obituary, "as if the Eiffel Tower had fallen down.") The English translations of the Astérix books, by Anthea Bell and Derek Hockridge, are impressive — their wordplay is just as clever.
***
JOSH GLENN'S *BEST ADVENTURES* LISTS: BEST 250 ADVENTURES OF THE 20TH CENTURY | 100 BEST OUGHTS ADVENTURES | 100 BEST RADIUM AGE (PROTO-)SCI-FI ADVENTURES | 100 BEST TEENS ADVENTURES | 100 BEST TWENTIES ADVENTURES | 100 BEST THIRTIES ADVENTURES | 75 BEST GOLDEN AGE SCI-FI ADVENTURES | 100 BEST FORTIES ADVENTURES | 100 BEST FIFTIES ADVENTURES | 100 BEST SIXTIES ADVENTURES | 75 BEST NEW WAVE SCI FI ADVENTURES | 100 BEST SEVENTIES ADVENTURES | 100 BEST EIGHTIES ADVENTURES | 75 BEST DIAMOND AGE SCI-FI ADVENTURES | 100 BEST NINETIES ADVENTURES (in progress) | 1994 | 1995 | 1996 | 1997 | 1998 | 1999 | 2000 | 2001 | 2002 | 2003 | NOTES ON 21st-CENTURY ADVENTURES.