Best 1954 Adventures (4)
By: Joshua Glenn
September 6, 2019
One in a series of 10 posts identifying Josh Glenn's favorite 1954 adventure novels.
*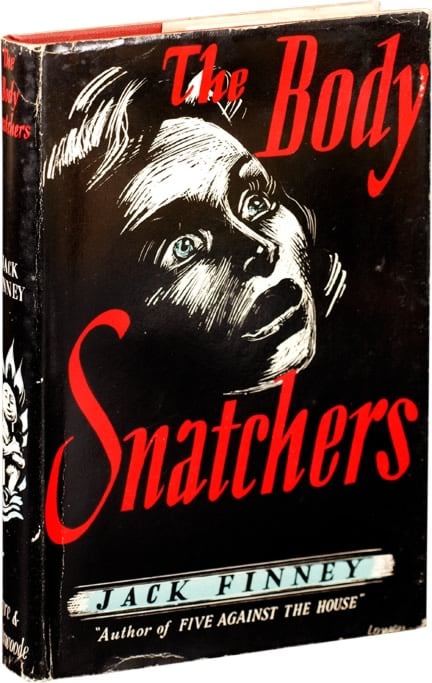 Jack Finney's The Body Snatchers (1954; as a book, 1955).
Why, wonders psychologist Miles Bennell, are so many of his patients — in bucolic Mill Valley, California — suddenly convinced that their loved ones aren't really who they're supposed to be? These doppelgängers, according to their spouses, relatives, colleagues, and friends, look exactly like the people they've replaced; they share their victims' memories and mannerisms. But they're not them! A case of mass hysteria, Bennell decides… until he discovers a curiously "blank" body, without features or fingerprints, concealed in a basement cupboard. He and his ex-girlfriend, along with others convinced that something uncanny is going on, begin to wonder whether there is an alien invasion going on. And if so, who can they trust? The aliens — and the science behind how they operate — aren't particularly believable… but the dramatic tension is incredible. How much evidence of the impossible is required until we see the truth?
Fun fact: Serialized in Colliers in 1954. (Philip K. Dick's pod-people story, "The Father-thing," was published a few months later.) Memorably adapted as a movie in 1956, by director Don Siegel; and again in 1978, by director Philip Kaufman — with an extraordinary cast that includes Donald Sutherland, Brooke Adams, Veronica Cartwright, Jeff Goldblum, and Leonard Nimoy.
***
JOSH GLENN'S *BEST ADVENTURES* LISTS: BEST 250 ADVENTURES OF THE 20TH CENTURY | 100 BEST OUGHTS ADVENTURES | 100 BEST RADIUM AGE (PROTO-)SCI-FI ADVENTURES | 100 BEST TEENS ADVENTURES | 100 BEST TWENTIES ADVENTURES | 100 BEST THIRTIES ADVENTURES | 75 BEST GOLDEN AGE SCI-FI ADVENTURES | 100 BEST FORTIES ADVENTURES | 100 BEST FIFTIES ADVENTURES | 100 BEST SIXTIES ADVENTURES | 75 BEST NEW WAVE SCI FI ADVENTURES | 100 BEST SEVENTIES ADVENTURES | 100 BEST EIGHTIES ADVENTURES | 75 BEST DIAMOND AGE SCI-FI ADVENTURES | 100 BEST NINETIES ADVENTURES (in progress) | 1994 | 1995 | 1996 | 1997 | 1998 | 1999 | 2000 | 2001 | 2002 | 2003 | NOTES ON 21st-CENTURY ADVENTURES.