Best 1954 Adventures (1)
By: Joshua Glenn
August 29, 2019
One in a series of 10 posts identifying Josh Glenn's favorite 1954 adventure novels.
*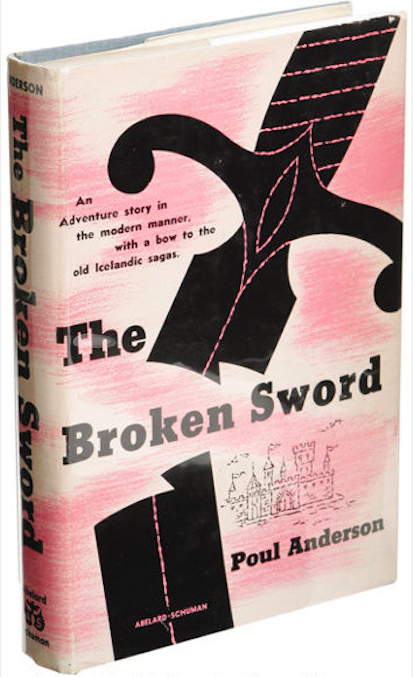 Poul Anderson's fantasy adventure The Broken Sword.
In the 11th century, when the Danes held sway over northern and eastern England, but the "White Christ" as the Vikings called Jesus) was threatening the power of the Norse, English, and Irish gods, Skafloc, son of the half-Christian Viking chieftan Orm the Strong, is kidnapped and raised by elves; in his place, the elves leave a troll-born changeling called Valgard. Alfheim, homeland of the elves, trolls, sprites, sidhe, goblins, etc., is everywhere apparent… but as Christianity spreads, Alfheim is diminishing, vanishing. Meanwhile, a troll army is massing to destroy Alfheim forever. The Norse gods, engaged in a war with the Frost Giants, set the story in motion thanks to their strategic maneuvers. Skafloc, who grows up to be a warrior and wielder of elf magic, is presented with a broken iron sword; a gift of the Norse gods, it can only be repaired by the frost giant Bolverk. Valgard, meanwhile, grows up to be a brutish Viking berserker; when he discovers the truth of his own origins, he joins the trolls. Anderson, whose Hrolf Kraki's Saga (1973) would retell Danish sagas, remains true to Norse stories of heroic achievement: the action is brutal, everybody loses.
Fun facts: Reviewers of The Broken Sword often note the similarities between its plot and that of The Lord of the Rings, published the same year. Both Anderson and Tolkien mined "the Northern thing" as they developed their own modern versions of epic fantasy; Anderson's version was less hopeful, and less successful. Michael Moorcock declared The Broken Sword the superior effort, and noted its influence on his Elric saga.
***
JOSH GLENN'S *BEST ADVENTURES* LISTS: BEST 250 ADVENTURES OF THE 20TH CENTURY | 100 BEST OUGHTS ADVENTURES | 100 BEST RADIUM AGE (PROTO-)SCI-FI ADVENTURES | 100 BEST TEENS ADVENTURES | 100 BEST TWENTIES ADVENTURES | 100 BEST THIRTIES ADVENTURES | 75 BEST GOLDEN AGE SCI-FI ADVENTURES | 100 BEST FORTIES ADVENTURES | 100 BEST FIFTIES ADVENTURES | 100 BEST SIXTIES ADVENTURES | 75 BEST NEW WAVE SCI FI ADVENTURES | 100 BEST SEVENTIES ADVENTURES | 100 BEST EIGHTIES ADVENTURES | 75 BEST DIAMOND AGE SCI-FI ADVENTURES | 100 BEST NINETIES ADVENTURES (in progress) | 1994 | 1995 | 1996 | 1997 | 1998 | 1999 | 2000 | 2001 | 2002 | 2003 | NOTES ON 21st-CENTURY ADVENTURES.