Best 1949 Adventures (9)
By: Joshua Glenn
August 15, 2019
One in a series of 10 posts identifying Josh Glenn's favorite 1949 adventure novels.
*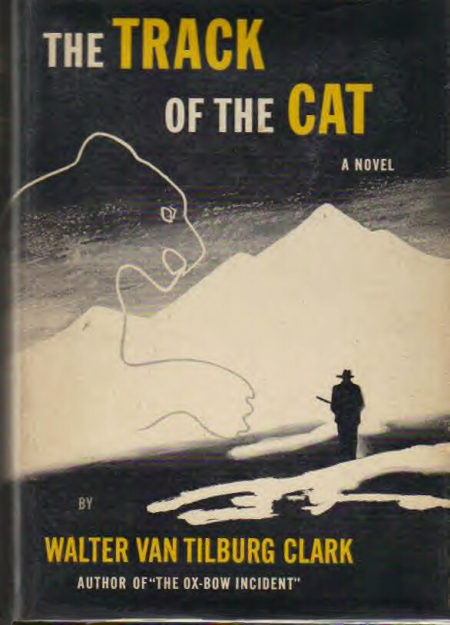 Walter Van Tilburg Clark's Western adventure The Track of the Cat.
A Nevada ranching family — homesteading a remote valley in the Sierra Nevadas — finds its livelihood threatened when a "painter" (mountain lion) begins wantonly slaughtering their cattle. Forty-year-old Arthur Bridges, the eldest brother, heads off into a blizzard to track and kill the cat; when he fails, his tougher brother Curt attempts to finish the job. Back home, meanwhile, teenage Harold (Hal) contemplates his brothers' different personalities and worldviews, and struggles to protect his fiancée, the beautiful outsider Gwen, from his mother's vitriol and religiosity. The action takes place within the span of a single day; the sensory impressions of the snow-choked mountain wilderness are vivid; and the long sequence in which Curt first hunts and is then hunted by the cat is tense from beginning to end. Yet this is no ordinary Western: If Clark's first novel, The Ox-Bow Incident (1940), gave us the first modern Western, in which the rustlers are the good guys and the posse are villains, here he uses the West as a backdrop against which to stage a drama about our proper relationship with the natural world. Arthur, who studies myth and legend, understands that his countrymen have despoiled the land, and that the cat is in some way a symbol of Nature's revenge, yet he is helpless to effect change; Curt, a skeptical materialist, can't understand Arthur's idealistic perspective — yet, because he is a man of action, he might have a chance. Hal's character is a kind of synthesis of his brothers'; he represents a third way for Americans to follow.
Fun facts: William A. Wellman adapted the novel as a 1954 Western, Track of the Cat, starring Robert Mitchum as Curt, William Hopper as Arthur, and Tab Hunter as Harold. (Wellman had also directed The Ox-Bow Incident.) Despite its visual splendor — the outdoor scenes were filmed on Mount Rainier; Wellman shot the movie in mostly monochromatic shades, with bright colors used sparingly for dramatic effect — the movie was a flop.
***
JOSH GLENN'S *BEST ADVENTURES* LISTS: BEST 250 ADVENTURES OF THE 20TH CENTURY | 100 BEST OUGHTS ADVENTURES | 100 BEST RADIUM AGE (PROTO-)SCI-FI ADVENTURES | 100 BEST TEENS ADVENTURES | 100 BEST TWENTIES ADVENTURES | 100 BEST THIRTIES ADVENTURES | 75 BEST GOLDEN AGE SCI-FI ADVENTURES | 100 BEST FORTIES ADVENTURES | 100 BEST FIFTIES ADVENTURES | 100 BEST SIXTIES ADVENTURES | 75 BEST NEW WAVE SCI FI ADVENTURES | 100 BEST SEVENTIES ADVENTURES | 100 BEST EIGHTIES ADVENTURES | 75 BEST DIAMOND AGE SCI-FI ADVENTURES | 100 BEST NINETIES ADVENTURES (in progress) | 1994 | 1995 | 1996 | 1997 | 1998 | 1999 | 2000 | 2001 | 2002 | 2003 | NOTES ON 21st-CENTURY ADVENTURES.