Best 1949 Adventures (4)
By: Joshua Glenn
August 5, 2019
One in a series of 10 posts identifying Josh Glenn's favorite 1949 adventure novels.
*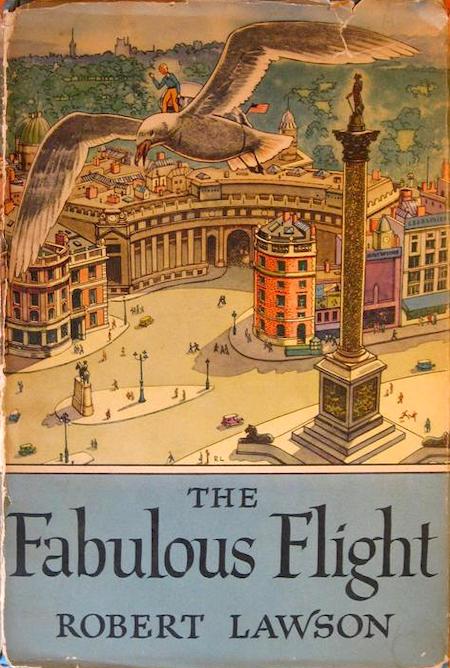 Robert Lawson's children's adventure The Fabulous Flight.
At age 7, Peter Pepperell suffers an injury that causes him to begin shrinking; soon enough, he's pocket-sized… and he can communicate with small animals, too. As Peter grows older, his father, a Washington D.C. honcho and model-building fanatic, teaches him to rig and sail model sailboats — besides the fantastical premise of both books, this is the only similarity between Lawson's book and E.B. White's Stuart Little (1945) — and ride a rabbit, using a custom-designed saddle. In addition to mustering and drilling a regiment of backyard rodents, Peter befriends a seagull named Gus, who takes him on thrilling aerial tours of Washington. Lawson's illustrations are charming and realistic; this could have been a perfectly good children's fantasy even if it hadn't turned into an adventure novel. But it does: When Mr. Pepperell's friends in the State Department learn that a mad scientist has developed a tiny but deadly weapon of mass destruction, and is holed up in an armed fortress in a tiny European country, Peter and Gus volunteer for the dangerous mission of stealing the thingamajig. Peter's father designs a cabin which straps onto Gus's back, and as a child I pored over Lawson's illustrations of this apparatus; it's great. The duo's fabulous flight involves a European tour of sorts, adventures over the ocean, gangsters, and a massive explosion!
Fun facts: Lawson illustrated dozens of children's books by other authors, including such well-known titles as Munro Leaf's The Story of Ferdinand (1936), Richard and Florence Atwater's Mr. Popper's Penguins (1938), and T.H White's The Sword in the Stone. I'm also a big fan of Lawson's Ben and Me (1939) and its companion volumes.
***
JOSH GLENN'S *BEST ADVENTURES* LISTS: BEST 250 ADVENTURES OF THE 20TH CENTURY | 100 BEST OUGHTS ADVENTURES | 100 BEST RADIUM AGE (PROTO-)SCI-FI ADVENTURES | 100 BEST TEENS ADVENTURES | 100 BEST TWENTIES ADVENTURES | 100 BEST THIRTIES ADVENTURES | 75 BEST GOLDEN AGE SCI-FI ADVENTURES | 100 BEST FORTIES ADVENTURES | 100 BEST FIFTIES ADVENTURES | 100 BEST SIXTIES ADVENTURES | 75 BEST NEW WAVE SCI FI ADVENTURES | 100 BEST SEVENTIES ADVENTURES | 100 BEST EIGHTIES ADVENTURES | 75 BEST DIAMOND AGE SCI-FI ADVENTURES | 100 BEST NINETIES ADVENTURES (in progress) | 1994 | 1995 | 1996 | 1997 | 1998 | 1999 | 2000 | 2001 | 2002 | 2003 | NOTES ON 21st-CENTURY ADVENTURES.