Best 1949 Adventures (2)
By: Joshua Glenn
July 29, 2019
One in a series of 10 posts identifying Josh Glenn's favorite 1949 adventure novels.
*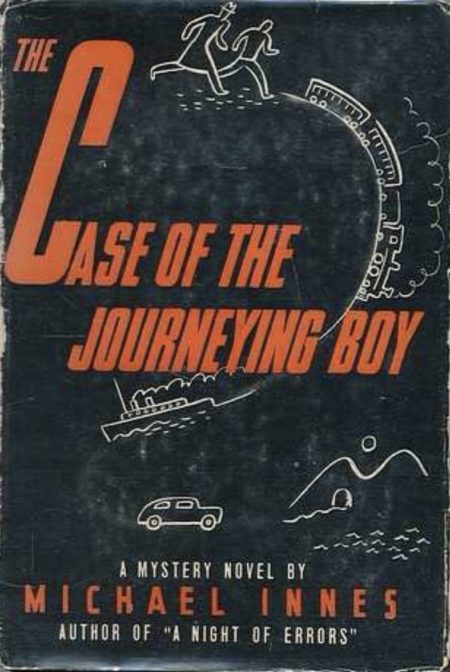 Michael Innes's espionage adventure The Journeying Boy (also published as The Case of the Journeying Boy).
According to the Internet Archive, the topics of this book are: tutors and tutoring, teenage boys, and nuclear physicists. Yes… but keep reading! Humphrey Paxton, the adolescent son of a wealthy, brilliant English atomic boffin, is being packed off to rural Ireland for a school vacation; Mr. Threwless, a no-nonsense tutor, is hired to accompany him there. When the two meet, for the first time, at the King's Cross station en route to the Irish ferry, neither is entirely sure that the other is who he's supposed to be. An atmosphere of paranoia pervades. On the train, which is carrying circus performers, the boy temporarily disappears — a meta-textual homage, one suspects, to Ethel Lina White's The Wheel Spins and Hitchcock's 1938 adaptation, The Lady Vanishes. Thewless finds himself kidnapped, then released, by ambulance drivers. Meanwhile, a London moviegoer turns out to have been murdered — and Humphrey, who knows something about the crime, is sought by Scotland Yard. The action switches back and forth between a Buchan-esque hunted-man story set in Ireland — both the darkly religious north and the free-and-easy south — and a police procedural set in London; the reader knows more about what's going on than do any of the characters, except perhaps for Humphrey, whom Thewless thinks is a fantasist and a delinquent. Some readers may feel that the book's final scenes are a bit too Boy's Own — criminal gangs, phony accents, secret caves — but Innes always knows exactly what he's doing. The ending is very satisfying.
Fun facts: The Scotland Yard detective here isn't Inspector Appleby, who appeared in over 30 novels; this is one of a few non-Appleby books that the author, J.I.M. Stewart, wrote as Michael Innes.
***
JOSH GLENN'S *BEST ADVENTURES* LISTS: BEST 250 ADVENTURES OF THE 20TH CENTURY | 100 BEST OUGHTS ADVENTURES | 100 BEST RADIUM AGE (PROTO-)SCI-FI ADVENTURES | 100 BEST TEENS ADVENTURES | 100 BEST TWENTIES ADVENTURES | 100 BEST THIRTIES ADVENTURES | 75 BEST GOLDEN AGE SCI-FI ADVENTURES | 100 BEST FORTIES ADVENTURES | 100 BEST FIFTIES ADVENTURES | 100 BEST SIXTIES ADVENTURES | 75 BEST NEW WAVE SCI FI ADVENTURES | 100 BEST SEVENTIES ADVENTURES | 100 BEST EIGHTIES ADVENTURES | 75 BEST DIAMOND AGE SCI-FI ADVENTURES | 100 BEST NINETIES ADVENTURES (in progress) | 1994 | 1995 | 1996 | 1997 | 1998 | 1999 | 2000 | 2001 | 2002 | 2003 | NOTES ON 21st-CENTURY ADVENTURES.