Best 1939 Adventures (9)
By: Joshua Glenn
July 12, 2019
One in a series of 10 posts identifying Josh Glenn's favorite 1939 adventure novels. Happy 80th anniversary!
*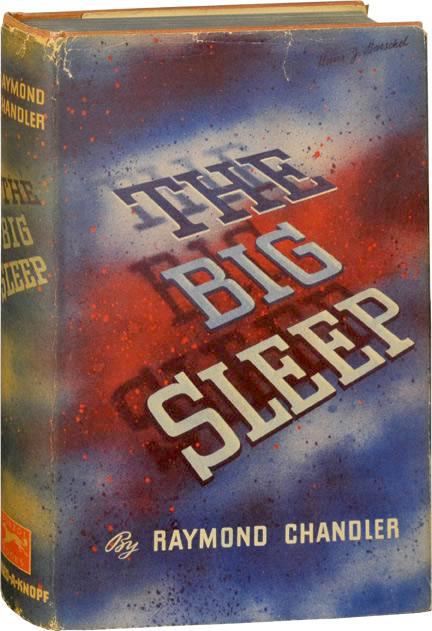 Raymond Chandler's Philip Marlowe crime adventure The Big Sleep.
In Los Angeles private eye Philip Marlowe's first outing, he is hired by the elderly General Sternwood to stymie an attempt by a bookseller, Arthur Geiger, to blackmail Sternwood's out-of-control younger daughter, Carmen. Marlowe discovers that Geiger is actually in the pornography business; he stakes out Geiger's home, only to discover Geiger dead and Carmen drugged and naked, in front of an empty camera. The next day, he finds out that the Sternwoods' car was found driven off a pier, with their chauffeur dead inside. The police want to know if Marlowe was hired to find Regan, the missing husband of Carmen's big sister, Vivian; Vivian wants to know, too. It's a complex story, with plenty of double-crossing and secrets that aren't revealed into late in the game; and there's some gritty action. But what's so extraordinary about The Big Sleep — what makes it one of the best novels (in any genre) of the 20th century — is Chandler's hardboiled, yet witty prose. Critics often disparage Chandler, when they compare his work with that of the tougher Dashiell Hammett; Chandler himself was a Hammett fan, calling his predecessor "the ace performer." But Chandler's wit is killer: "She lowered her lashes until they almost cuddled her cheeks and slowly raised them again, like a theatre curtain. I was to get to know that trick. That was supposed to make me roll over on my back with all four paws in the air." And his puzzle-like plots are beautifully constructed. Here, even when all the loose ends of the plot have been wrapped up, Marlowe is nagged by Regan's disappearance — when he investigates, that's when his troubles really begin.
Fun facts: Howard Hawks's 1946 adaptation of The Big Sleep, starring Humphrey Bogart and Lauren Bacall, is terrific; William Faulkner, Jules Furthman and Leigh Brackett, enhancing Chandler's own writing, turned out one of the most wickedly clever screenplays ever. There is also a 1978 British adaptation, starring Robert Mitchum.
***
JOSH GLENN'S *BEST ADVENTURES* LISTS: BEST 250 ADVENTURES OF THE 20TH CENTURY | 100 BEST OUGHTS ADVENTURES | 100 BEST RADIUM AGE (PROTO-)SCI-FI ADVENTURES | 100 BEST TEENS ADVENTURES | 100 BEST TWENTIES ADVENTURES | 100 BEST THIRTIES ADVENTURES | 75 BEST GOLDEN AGE SCI-FI ADVENTURES | 100 BEST FORTIES ADVENTURES | 100 BEST FIFTIES ADVENTURES | 100 BEST SIXTIES ADVENTURES | 75 BEST NEW WAVE SCI FI ADVENTURES | 100 BEST SEVENTIES ADVENTURES | 100 BEST EIGHTIES ADVENTURES | 75 BEST DIAMOND AGE SCI-FI ADVENTURES | 100 BEST NINETIES ADVENTURES (in progress) | 1994 | 1995 | 1996 | 1997 | 1998 | 1999 | 2000 | 2001 | 2002 | 2003 | NOTES ON 21st-CENTURY ADVENTURES.