Best 1939 Adventures (8)
By: Joshua Glenn
July 11, 2019
One in a series of 10 posts identifying Josh Glenn's favorite 1939 adventure novels. Happy 80th anniversary!
*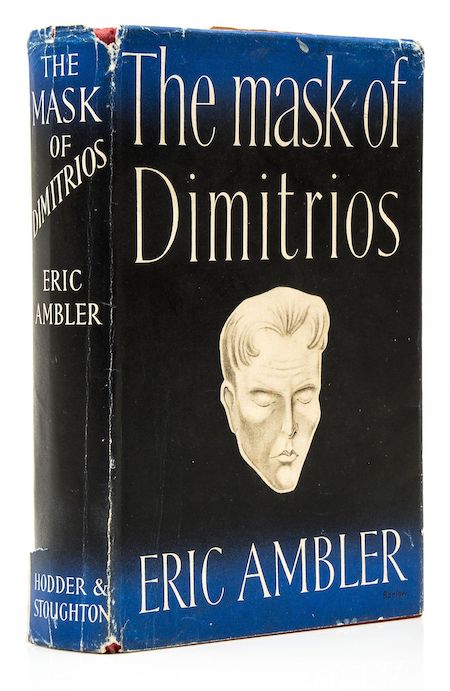 Eric Ambler's espionage/crime adventure The Mask of Dimitrios (US title: A Coffin for Dimitrios).
Ambler's fifth thriller is the one for which he is best known. Charles Latimer, a writer of genteel murder mysteries on holiday in Turkey, is introduced to a Colonel Haki, who claims to admire his stories — and who turns out to be head of the Turkish secret police. Haki has just discovered the body of a drowned man whose identity papers reveal that he is Dimitrios Makropoulos, a large-scale drug dealer, pimp, and murderer; he challenges Latimer to find anything romantic about the life of this villain. Our protagonist embarks on journey across Europe, in an attempt to fill in the missing gaps of Dimitrios's official police record; he has become fascinated with this character, not as an indivdual but as a symbol of the increasingly ruthless times. Each person that Latimer meets — from a left-wing journalist to a master spy — has an idiosycratic story to relate. But Latimer pokes his nose into the wrong places, and soon he's involved in desperate matters — not a struggle of good vs. evil, but a struggle among amoral entrepreneurs to profit from ethnic cleansing, ideological conflict, and political assassination. Some readers may find the novel too expository, not sufficiently action-packed; but its slow unfolding of secrets and atmospherics, and realistic depiction of exotic locales, makes it a classic of its genre.
Fun facts: The Dimitrios character was inspired by the early career of munitions kingpin Sir Basil Zaharoff; and the story's fictional assassination attempt was loosely based on a 1923 attempted assassination of Bulgaria's prime minister. Jean Negulesco directed a 1944 adaptation of the novel, starring Sydney Greenstreet, Zachary Scott, Faye Emerson, and Peter Lorre.
***
JOSH GLENN'S *BEST ADVENTURES* LISTS: BEST 250 ADVENTURES OF THE 20TH CENTURY | 100 BEST OUGHTS ADVENTURES | 100 BEST RADIUM AGE (PROTO-)SCI-FI ADVENTURES | 100 BEST TEENS ADVENTURES | 100 BEST TWENTIES ADVENTURES | 100 BEST THIRTIES ADVENTURES | 75 BEST GOLDEN AGE SCI-FI ADVENTURES | 100 BEST FORTIES ADVENTURES | 100 BEST FIFTIES ADVENTURES | 100 BEST SIXTIES ADVENTURES | 75 BEST NEW WAVE SCI FI ADVENTURES | 100 BEST SEVENTIES ADVENTURES | 100 BEST EIGHTIES ADVENTURES | 75 BEST DIAMOND AGE SCI-FI ADVENTURES | 100 BEST NINETIES ADVENTURES (in progress) | 1994 | 1995 | 1996 | 1997 | 1998 | 1999 | 2000 | 2001 | 2002 | 2003 | NOTES ON 21st-CENTURY ADVENTURES.