Best 1939 Adventures (7)
By: Joshua Glenn
July 9, 2019
One in a series of 10 posts identifying Josh Glenn's favorite 1939 adventure novels.
*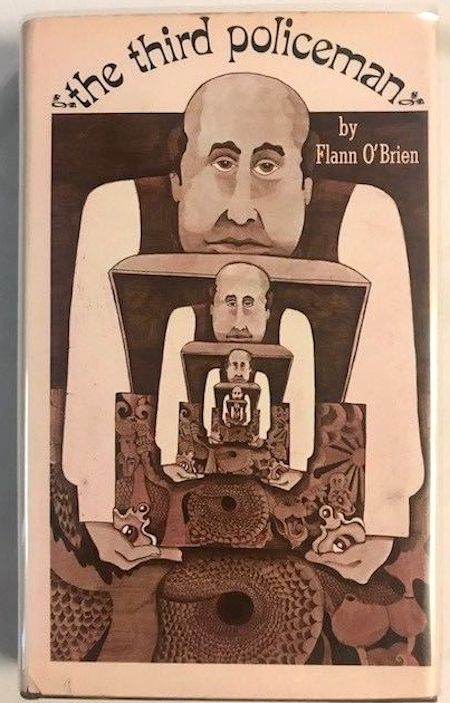 Flann O'Brien's 'pataphysical picaresque The Third Policeman (w. 1939–1940, p. 1967).
Our story's unnamed narrator confesses to murder, right off the bat — so if this is a crime adventure, it's one without any mystery; and yet it's the most mysterious thing you'll ever read. The narrator finds himself in a sort of alternate dimension; although it may resemble the area surrounding his rural Irish home, its operating system appears to run on a different set of metaphysical laws. Writing for The Irish Times as Myles na gCopaleen, the author generated endless satirical theories, hypotheses, and fantastical inventions; The Third Policeman puts these sorts of ideas into action — which is why I describe it as 'pataphysical. The narrator encounters a machine that will make a block of gold; a cigarette that never gets used up; and an army of one-legged men, who tie themselves together in pairs when entering battle. Perhaps most alarmingly, he discovers bicycles that are half-people, and vice versa — as well as fat local policeman who closely monitor the movements of local citizens, out of concern for this bicycle-transmogrification situation. The ancient Greeks assigned fictional but thematically appropriate deaths to their bygone poets, and one begins to get the sense that something of the sort may be going on here — for our narrator, it seems, is an aficionado of the crackpot theories of a philosopher named De Selby, whose (fictional) books The Country Album, A Memoir of Garcia, and Layman's Atlas, among others, theorize that the phenomenon of night is actually an accumulation of "black air" caused by pollution, etc., etc. Most improbably of all, by the end of the novel O'Brien will have tied all of this stuff together beautifully.
Fun facts: After The Third Policeman failed to find a publisher, the author — whose real name is Brian O'Nolan — withdrew the manuscript from circulation and claimed it had blown out of a car window. In fact, it sat on the sideboard in his dining room until his death in 1966.
***
JOSH GLENN'S *BEST ADVENTURES* LISTS: BEST 250 ADVENTURES OF THE 20TH CENTURY | 100 BEST OUGHTS ADVENTURES | 100 BEST RADIUM AGE (PROTO-)SCI-FI ADVENTURES | 100 BEST TEENS ADVENTURES | 100 BEST TWENTIES ADVENTURES | 100 BEST THIRTIES ADVENTURES | 75 BEST GOLDEN AGE SCI-FI ADVENTURES | 100 BEST FORTIES ADVENTURES | 100 BEST FIFTIES ADVENTURES | 100 BEST SIXTIES ADVENTURES | 75 BEST NEW WAVE SCI FI ADVENTURES | 100 BEST SEVENTIES ADVENTURES | 100 BEST EIGHTIES ADVENTURES | 75 BEST DIAMOND AGE SCI-FI ADVENTURES | 100 BEST NINETIES ADVENTURES (in progress) | 1994 | 1995 | 1996 | 1997 | 1998 | 1999 | 2000 | 2001 | 2002 | 2003 | NOTES ON 21st-CENTURY ADVENTURES.