Best 1939 Adventures (6)
By: Joshua Glenn
July 8, 2019
One in a series of 10 posts identifying Josh Glenn's favorite 1939 adventure novels.
*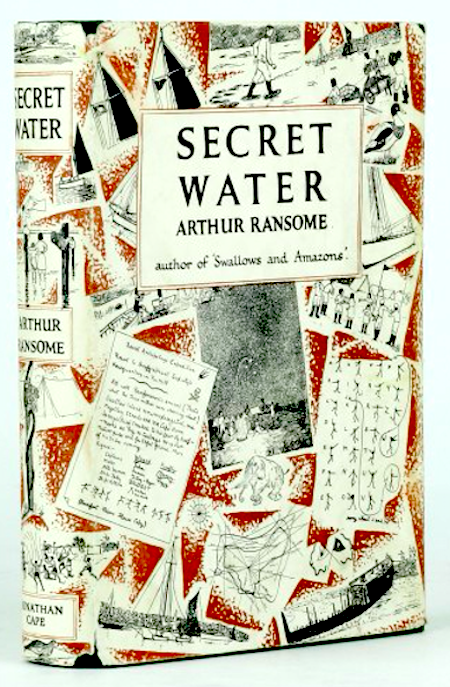 Arthur Ransome's Swallows & Amazons adventure Secret Water.
The eighth Swallows & Amazons book follows We Didn't Mean to Go to Sea (1937), in which the Walker children inadvertently but heroically navigate the North Sea at night, in a small sailing cutter. As a reward, their parents take them camping on an island in Hamford Water — a tidal inlet between Walton-on-the-Naze and Harwich in Essex — where, once their father is called away on naval business, they are "marooned" with instructions to survey and chart the area. Part of the nerdy pleasure of this installment in the series is learning how to make a proper map — and watching illustrations of the Walkers' map of the inlets, coves, mudflats, and estuaries of "Walker Island," and the "Secret Water" area, evolve. Bridget, formerly known as baby "Vicky," is now four years old; she's a great addition to the expedition. Titty and Bridget find mysterious footprints, which they track to the lair of a local boy, whom they nickname "Mastodon"; and there's another family of unsupervised children camping in the area, the "Eels," who are initially hostile. Just in time, the Amazons show up — hooray! A corroboree — modeled after theatrical events at which Australian Aboriginals interact with the Dreamtime, is planned… but when Bridget is trapped in the middle of a ford by a rising tide, disaster looms. Will she make it?
Fun facts: Ransome used to sail to Hamford Water in his yacht Nancy Blackett (named after the elder of the Amazon sisters). He moved the action of the series away from England's Lake District in order to offer his characters room to explore.
***
JOSH GLENN'S *BEST ADVENTURES* LISTS: BEST 250 ADVENTURES OF THE 20TH CENTURY | 100 BEST OUGHTS ADVENTURES | 100 BEST RADIUM AGE (PROTO-)SCI-FI ADVENTURES | 100 BEST TEENS ADVENTURES | 100 BEST TWENTIES ADVENTURES | 100 BEST THIRTIES ADVENTURES | 75 BEST GOLDEN AGE SCI-FI ADVENTURES | 100 BEST FORTIES ADVENTURES | 100 BEST FIFTIES ADVENTURES | 100 BEST SIXTIES ADVENTURES | 75 BEST NEW WAVE SCI FI ADVENTURES | 100 BEST SEVENTIES ADVENTURES | 100 BEST EIGHTIES ADVENTURES | 75 BEST DIAMOND AGE SCI-FI ADVENTURES | 100 BEST NINETIES ADVENTURES (in progress) | 1994 | 1995 | 1996 | 1997 | 1998 | 1999 | 2000 | 2001 | 2002 | 2003 | NOTES ON 21st-CENTURY ADVENTURES.