Best 1939 Adventures (5)
By: Joshua Glenn
July 6, 2019
One in a series of 10 posts identifying Josh Glenn's favorite 1939 adventure novels.
*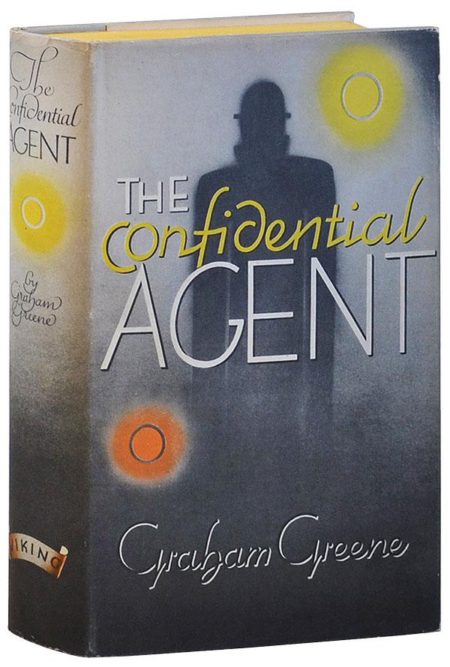 Graham Greene's espionage adventure The Confidential Agent.
D, a leftist literary scholar from an unnamed European country in the midst of a civil war (one thinks immediately of Spain), is en route to England when he spots L, an aristocratic supporter of the fascist rebels who killed his wife. Both men are in the country to secretly buy coal from the mine-owning Lord Benditch; meanwhile, Benditch's daughter, Rose, falls in love with D — though she's engaged to Benditch's right-hand man, Forbes (a sympathetic Jewish character). An unlikely secret agent, the intellectual D is beaten and robbed by L's thuggish chauffeur, then nearly killed when he meets in London with his contact, K. D's authenticating documents are stolen, so Benditch won't talk to him… and the official at his country's embassy is a supporter of the fascists. Worse, he's framed for murder. At last, the traumatized D has had enough of the insults, beatings, and chicanery. He grabs a gun, there's a chase, an innocent character is killed, and a double agent is exposed. D has botched his mission, it seems — but at the very least, can he prevent the fascists from buying Benditch's coal? And might he and Rose escape from England together?
Fun facts: Greene wrote this "entertainment" in six weeks, with the help of Benzedrine. The Chanson de Roland is mentioned; the author was testing the limits of the thriller — how chivalrous can a modern character possibly be? The novel was adapted in 1945, by Herman Shumlin, as Confidential Agent; the movie stars Charles Boyer, Lauren Bacall (whose performance was panned), Katina Paxinou, and Peter Lorre.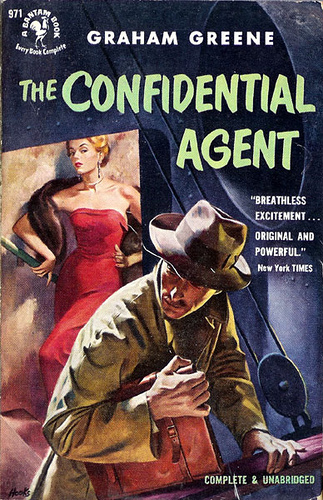 ***
JOSH GLENN'S *BEST ADVENTURES* LISTS: BEST 250 ADVENTURES OF THE 20TH CENTURY | 100 BEST OUGHTS ADVENTURES | 100 BEST RADIUM AGE (PROTO-)SCI-FI ADVENTURES | 100 BEST TEENS ADVENTURES | 100 BEST TWENTIES ADVENTURES | 100 BEST THIRTIES ADVENTURES | 75 BEST GOLDEN AGE SCI-FI ADVENTURES | 100 BEST FORTIES ADVENTURES | 100 BEST FIFTIES ADVENTURES | 100 BEST SIXTIES ADVENTURES | 75 BEST NEW WAVE SCI FI ADVENTURES | 100 BEST SEVENTIES ADVENTURES | 100 BEST EIGHTIES ADVENTURES | 75 BEST DIAMOND AGE SCI-FI ADVENTURES | 100 BEST NINETIES ADVENTURES (in progress) | 1994 | 1995 | 1996 | 1997 | 1998 | 1999 | 2000 | 2001 | 2002 | 2003 | NOTES ON 21st-CENTURY ADVENTURES.