Best 1939 Adventures (3)
By: Joshua Glenn
July 4, 2019
One in a series of 10 posts identifying Josh Glenn's favorite 1939 adventure novels.
*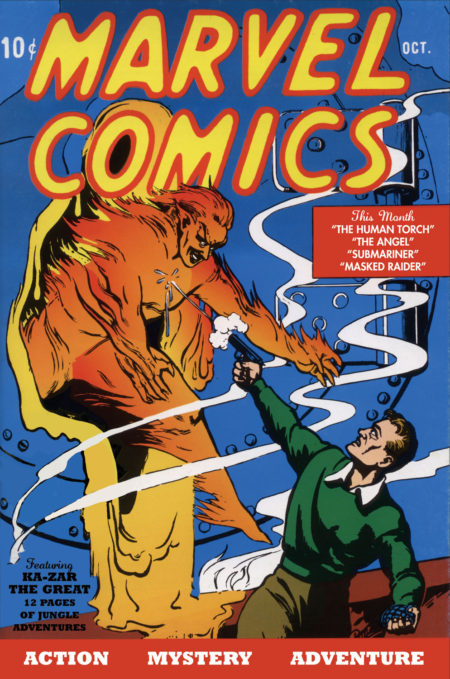 Marvel Comics (1939–ongoing).
Marvel Comics started in 1939, though not exactly as such. The popularity of Superman (who debuted in Action Comics, in 1938), Batman (Detective Comics, 1939), and other superheroes led Martin Goodman, a New York-based publisher of pulp magazines such as All Star Adventure Fiction, Complete Western Book, and Mystery Tales, to start a comics division within his company, Timely Publications. Timely Comics' Marvel Comics #1 (Oct. 1939) featured the first appearance of Carl Burgos's android superhero, the Human Torch, and the first generally available appearance of Bill Everett's undersea antihero Namor the Sub-Mariner. This content was provided by comic-book "packager"; but after Marvel Comics #1 sold nearly a million copies (in two editions), Goodman hired comics writer-artist Joe Simon as Timely's first editor. Simon brought along his friend Jack Kirby, a talented young artist with whom he'd worked on Blue Bolt; the Human Torch and Sub-Mariner were soon joined by Simon and Kirby's Captain America. A 16-year-old Stan Lee, a cousin of Goodman's by marriage, also joined Timely in 1939; he was promoted to interim editor a few years later, after Simon and Kirby left for the fledgling DC Comics. In the early '60s, Lee and Kirby's Fantastic Four and other titles would revolutionize the medium; by then, Timely had been renamed: Marvel Comics.
Fun facts: The year 1939 also saw the launch of MLJ Comics (which would become Archie Comics), Fawcett Comics (Captain Marvel), Fox Feature Syndicate (Blue Beetle, Fletcher Hanks), Lev Gleason Publications (Crime Does Not Pay), Standard/Better/Nedor (The Black Terror), and Quality Comics (Plastic Man, Blackhawk).
***
JOSH GLENN'S *BEST ADVENTURES* LISTS: BEST 250 ADVENTURES OF THE 20TH CENTURY | 100 BEST OUGHTS ADVENTURES | 100 BEST RADIUM AGE (PROTO-)SCI-FI ADVENTURES | 100 BEST TEENS ADVENTURES | 100 BEST TWENTIES ADVENTURES | 100 BEST THIRTIES ADVENTURES | 75 BEST GOLDEN AGE SCI-FI ADVENTURES | 100 BEST FORTIES ADVENTURES | 100 BEST FIFTIES ADVENTURES | 100 BEST SIXTIES ADVENTURES | 75 BEST NEW WAVE SCI FI ADVENTURES | 100 BEST SEVENTIES ADVENTURES | 100 BEST EIGHTIES ADVENTURES | 75 BEST DIAMOND AGE SCI-FI ADVENTURES | 100 BEST NINETIES ADVENTURES (in progress) | 1994 | 1995 | 1996 | 1997 | 1998 | 1999 | 2000 | 2001 | 2002 | 2003 | NOTES ON 21st-CENTURY ADVENTURES.