Best 1939 Adventures (2)
By: Joshua Glenn
July 2, 2019
One in a series of 10 posts identifying Josh Glenn's favorite 1939 adventure novels.
*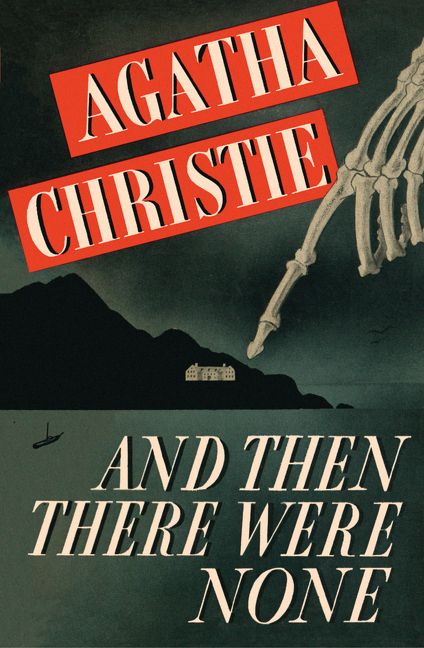 Agatha Christie's crime adventure And Then There Were None.
Eight people are invited to spend time — as an employee, in some cases; as a holidaying guest, in others — at a small, isolated island off the Devon coast of England. They are met by a butler and cook-housekeeper, who inform them that their host, U.N. Owen (unknown, they'll soon figure out), whom none of them has ever met, will arrive later. A framed copy of a nursery rhyme, "Ten Little Niggers" ("Ten Little Indians," in later editions), hangs in each guest's bedroom; the sinister import of this décor will soon become apparent. A pre-recorded message accuses each of the island's 10 inhabitants of having gotten away with murder; one of them dies that first evening, of cyanide poisoning. There's no way off the island, and the violent deaths keep coming. This is a murder mystery without a detective: the ever-shrinking group seeks to determine which of their number is the killer. Will they figure out what's happening, before nobody is left standing? In a postscript, a fishing ship picks up a bottle inside its trawling nets; the bottle contains a written confession of the killings, which explains everything.
Fun facts: This is not only Christie's most popular novel, but the world's best-selling mystery; it's been called one of the essential crime reads written by women in the last 100 years. First published in the UK as Ten Little Niggers, after the racist nursery rhyme which serves as a major plot point; beginning in 1964, it was published as Ten Little Indians. There have been several film and TV adaptations; the 1976 movie Murder by Death is a clever parody. Most importantly, in 2011 I wrote a "Golden Fleece"/And Then There Were None mashup, for HILOBROW.
***
JOSH GLENN'S *BEST ADVENTURES* LISTS: BEST 250 ADVENTURES OF THE 20TH CENTURY | 100 BEST OUGHTS ADVENTURES | 100 BEST RADIUM AGE (PROTO-)SCI-FI ADVENTURES | 100 BEST TEENS ADVENTURES | 100 BEST TWENTIES ADVENTURES | 100 BEST THIRTIES ADVENTURES | 75 BEST GOLDEN AGE SCI-FI ADVENTURES | 100 BEST FORTIES ADVENTURES | 100 BEST FIFTIES ADVENTURES | 100 BEST SIXTIES ADVENTURES | 75 BEST NEW WAVE SCI FI ADVENTURES | 100 BEST SEVENTIES ADVENTURES | 100 BEST EIGHTIES ADVENTURES | 75 BEST DIAMOND AGE SCI-FI ADVENTURES | 100 BEST NINETIES ADVENTURES (in progress) | 1994 | 1995 | 1996 | 1997 | 1998 | 1999 | 2000 | 2001 | 2002 | 2003 | NOTES ON 21st-CENTURY ADVENTURES.