Best 1939 Adventures (1)
By: Joshua Glenn
July 1, 2019
One in a series of 10 posts identifying Josh Glenn's favorite 1939 adventure novels.
*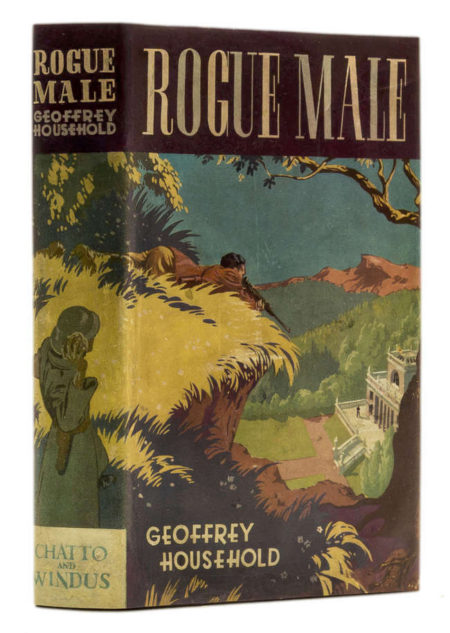 Geoffrey Household's hunted-man adventure Rogue Male.
One of my favorite thrillers — and, along with The Thirty-Nine Steps (1915) and "The Most Dangerous Game" (1924), one of the top-three most excellent hunted-man stories of all time. Our protagonist, an unnamed British professional hunter, is passing through a Central European country that is in the thrall of a vicious dictator; on a whim, he uses his stalking skills to penetrate undetected into the dictator's private compound — then gets his target lined up. Before he can decide whether or not to pull the trigger, he's captured. Tortured by the dictator's secret service, then left for dead, the hunter flees through enemy territory back to England. This ordeal is already an amazing one, well worth the price of admission. But our protagonist isn't safe, in London; agents of the dictator are after him. After a harrowing pursuit through the London Underground, he sneaks off to rural Dorset and goes underground — literally. This time, he's the one being stalked — by a relentless, sadistic hunter, Major Quive-Smith (George Saunders, in the 1941 film version: perfect casting), who is in the pay of the enemy. When Quive-Smith tracks our man to his "holloway," who will survive?
Fun facts: In Fritz Lang's fine 1941 movie adaptation, Man Hunt, starring Walter Pidgeon and Joan Bennett, the dictator is explicitly identified as Hitler. There was also a 1976 BBC TV adaptation starring Peter O'Toole as the British hunter. David Morrell, author of the 1972 hunted-man thriller First Blood, has acknowledged being deeply influenced by Rogue Male. Also see Robert Macfarlane's Holloway, originally published in 2012 by the amusingly titled Quive-Smith Press.
***
JOSH GLENN'S *BEST ADVENTURES* LISTS: BEST 250 ADVENTURES OF THE 20TH CENTURY | 100 BEST OUGHTS ADVENTURES | 100 BEST RADIUM AGE (PROTO-)SCI-FI ADVENTURES | 100 BEST TEENS ADVENTURES | 100 BEST TWENTIES ADVENTURES | 100 BEST THIRTIES ADVENTURES | 75 BEST GOLDEN AGE SCI-FI ADVENTURES | 100 BEST FORTIES ADVENTURES | 100 BEST FIFTIES ADVENTURES | 100 BEST SIXTIES ADVENTURES | 75 BEST NEW WAVE SCI FI ADVENTURES | 100 BEST SEVENTIES ADVENTURES | 100 BEST EIGHTIES ADVENTURES | 75 BEST DIAMOND AGE SCI-FI ADVENTURES | 100 BEST NINETIES ADVENTURES (in progress) | 1994 | 1995 | 1996 | 1997 | 1998 | 1999 | 2000 | 2001 | 2002 | 2003 | NOTES ON 21st-CENTURY ADVENTURES.