Best 1944 Adventures (8)
By: Joshua Glenn
June 27, 2019
One in a series of 10 posts identifying Josh Glenn's favorite 1944 adventure novels.
*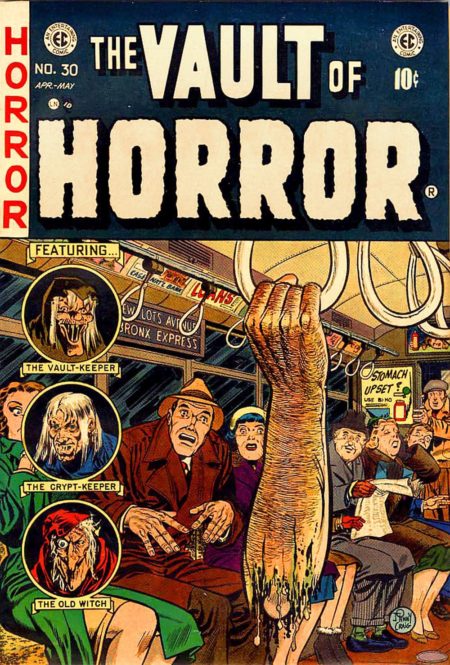 EC Comics (1944–c. 1955).
In 1947, Bill Gaines inherited Educational Comics from his father, who'd more or less invented the comic book format. Soon enough, he jettisoned the company's educational titles, hired the talented writer and artist Al Feldstein, and began publishing horror fiction, crime fiction, satire, military fiction, dark fantasy, and sci-fi titles such as The Crypt of Terror/Tales from the Crypt (1950–1955), The Vault of Horror (1950–1955), Weird Fantasy (1950–1953), Weird Science (1950–1953), Two-Fisted Tales (1950–1955), and Frontline Combat (1951–1954); and short-lived titles such as Impact, Aces High, and Psychoanalysis. Gaines was an unapologetic publisher of pulp fiction, but he and Feldstein encouraged talented artists such as Wallace Wood, Reed Crandall, Johnny Craig, George Evans, Graham Ingels, Jack Davis, Bill Elder, Joe Orlando, Al Williamson, and Frank Frazetta to develop distinctive styles; and the stories, though violent and gory, were often socially conscious and progressive about themes such as racial equality, war, nuclear disarmament, and environmentalism. After the 1954 publication of Seduction of the Innocent and a Congressional hearing on the role of comics in juvenile delinquency, EC's distributor went bankrupt. Gaines dropped all of EC's titles, except one: Mad, which under Al Feldstein's editorship became one of the most popular and influential humor magazines of all time.
Fun facts: As Fantagraphics founder Gary Groth puts it: "In the impoverished cultural context of comics publishing at the time, the EC line was an astonishing achievement; Gaines's EC came as close as a mainstream comics publisher could to being the comics equivalent of Barney Rossett's Grove Press. [Many of their stories] were fiercely honest, politically adversarial, visually masterful, and occasionally formally innovative."
***
JOSH GLENN'S *BEST ADVENTURES* LISTS: BEST 250 ADVENTURES OF THE 20TH CENTURY | 100 BEST OUGHTS ADVENTURES | 100 BEST RADIUM AGE (PROTO-)SCI-FI ADVENTURES | 100 BEST TEENS ADVENTURES | 100 BEST TWENTIES ADVENTURES | 100 BEST THIRTIES ADVENTURES | 75 BEST GOLDEN AGE SCI-FI ADVENTURES | 100 BEST FORTIES ADVENTURES | 100 BEST FIFTIES ADVENTURES | 100 BEST SIXTIES ADVENTURES | 75 BEST NEW WAVE SCI FI ADVENTURES | 100 BEST SEVENTIES ADVENTURES | 100 BEST EIGHTIES ADVENTURES | 75 BEST DIAMOND AGE SCI-FI ADVENTURES | 100 BEST NINETIES ADVENTURES (in progress) | 1994 | 1995 | 1996 | 1997 | 1998 | 1999 | 2000 | 2001 | 2002 | 2003 | NOTES ON 21st-CENTURY ADVENTURES.