Best 1944 Adventures (7)
By: Joshua Glenn
June 26, 2019
One in a series of 10 posts identifying Josh Glenn's favorite 1944 adventure novels.
*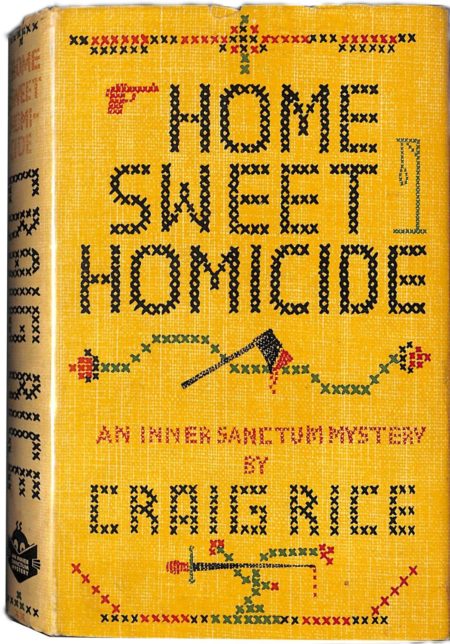 Craig Rice's crime adventure Home Sweet Homicide.
The three Carstairs children — 14-year-old Dinah, 12-year-old April, and 10-year-old Archie — are near-witnesses to a murder that takes place next door. Their widowed mother, Marian, is a mystery author, and the children decide that she must solve the case, as a publicity opportunity! She's not interested, so the children decide to solve the case on her behalf, and give her the credit. They hide the chief suspect out in Archie's playhouse, throw the cops off the trail, employ investigation techniques that they've gleaned from their mother's books… and, along the way, decide that a handsome police detective would make a terrific stepfather. It's a light-hearted mystery: the pace is antic, the patter is snappy, the kids don't always see eye to eye. Marian is a smart, strong woman who's also a distracted writer and sometimes neglectful mother; although she, too, is attracted to the handsome cop, she insists that he respect her and the kids. "Craig Rice" was the pen name of Georgiana Craig; it has been suggested that the character of Marian was not-so-loosely based on the author.
Fun facts: A mystery writers' mystery, Home Sweet Homicide appears on many lists of the best mystery novels of the first half of the 20th century. It was adapted as a 1946 movie starring Peggy Ann Garner (A Tree Grows in Brooklyn), cowboy actor Randolph Scott, character actor James Gleason, and a 10-year-old Dean Stockwell. The book was a departure for the author, who first became well-known for screwball crime stories in which three profane, hard-drinking detectives solve brutal murders in between binges.
***
JOSH GLENN'S *BEST ADVENTURES* LISTS: BEST 250 ADVENTURES OF THE 20TH CENTURY | 100 BEST OUGHTS ADVENTURES | 100 BEST RADIUM AGE (PROTO-)SCI-FI ADVENTURES | 100 BEST TEENS ADVENTURES | 100 BEST TWENTIES ADVENTURES | 100 BEST THIRTIES ADVENTURES | 75 BEST GOLDEN AGE SCI-FI ADVENTURES | 100 BEST FORTIES ADVENTURES | 100 BEST FIFTIES ADVENTURES | 100 BEST SIXTIES ADVENTURES | 75 BEST NEW WAVE SCI FI ADVENTURES | 100 BEST SEVENTIES ADVENTURES | 100 BEST EIGHTIES ADVENTURES | 75 BEST DIAMOND AGE SCI-FI ADVENTURES | 100 BEST NINETIES ADVENTURES (in progress) | 1994 | 1995 | 1996 | 1997 | 1998 | 1999 | 2000 | 2001 | 2002 | 2003 | NOTES ON 21st-CENTURY ADVENTURES.