Best 1944 Adventures (5)
By: Joshua Glenn
June 24, 2019
One in a series of 10 posts identifying Josh Glenn's favorite 1944 adventure novels.
*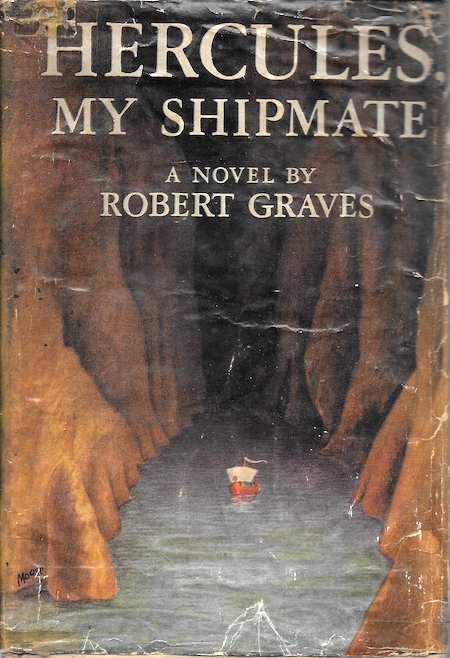 Robert Graves's mythical adventure The Golden Fleece (later retitled Hercules My Shipmate).
Early Greece — peaceful, intensely creative, woman-centric — venerated a female deity with three aspects (maiden, mother, crone), the so-called Triple Goddess; then, or so Graves informs us, along came patriarchal worshippers of Zeus and the Olympic deities. When the "golden fleece" — some sort of object sacred to Zeus — is stolen by worshipers of the Triple Goddess, a group of Greek princes and hotshots assembles to win it back. Among the dissensual crew members of the Argo are champion boxers, a champion archer, and a champion liar, sweet-singing Orpheus, and the powerful but surly, dim-witted Hercules. None of them particularly like the sometimes energetic, sometimes sulky Jason, but the pretty boy's ability to make women fall in love with him is regarded as a particularly valuable trait. As he'd previously done in his novel I, Claudius (1934), a history of Rome from Julius Caesar's assassination in 44 BC to Caligula's assassination in 41 AD, Graves simultaneously demystifies myth and legend (centaurs and satyrs, for example, are clans with totemic horses and goats) and puts his own imaginative spin on the story. It's not always an easy read — there are some long-winded speeches, and when Hercules leaves the crew, we aren't particularly interested in his solo adventure — but it's a remarkable yarn. There are too many Argonauts to keep straight, but Graves portrays them as human, all too human (obsessed with food and women, fearful of vengeful ghosts and gods), which is entertaining and insightful.
Fun facts: Graves won international acclaim in 1929 with the publication of his WWI memoir. After the war, he was granted a classical scholarship at Oxford and subsequently went to Egypt as the first professor of English at the University of Cairo. His 1948 nonfiction book, The White Goddess, covers the same territory as The Golden Fleece.
***
JOSH GLENN'S *BEST ADVENTURES* LISTS: BEST 250 ADVENTURES OF THE 20TH CENTURY | 100 BEST OUGHTS ADVENTURES | 100 BEST RADIUM AGE (PROTO-)SCI-FI ADVENTURES | 100 BEST TEENS ADVENTURES | 100 BEST TWENTIES ADVENTURES | 100 BEST THIRTIES ADVENTURES | 75 BEST GOLDEN AGE SCI-FI ADVENTURES | 100 BEST FORTIES ADVENTURES | 100 BEST FIFTIES ADVENTURES | 100 BEST SIXTIES ADVENTURES | 75 BEST NEW WAVE SCI FI ADVENTURES | 100 BEST SEVENTIES ADVENTURES | 100 BEST EIGHTIES ADVENTURES | 75 BEST DIAMOND AGE SCI-FI ADVENTURES | 100 BEST NINETIES ADVENTURES (in progress) | 1994 | 1995 | 1996 | 1997 | 1998 | 1999 | 2000 | 2001 | 2002 | 2003 | NOTES ON 21st-CENTURY ADVENTURES.