Best 1944 Adventures (4)
By: Joshua Glenn
June 23, 2019
One in a series of 10 posts identifying Josh Glenn's favorite 1944 adventure novels.
*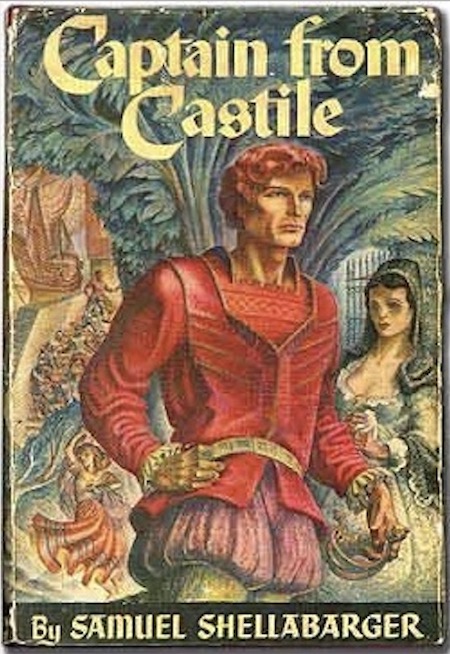 Samuel Shellabarger's historical adventure Captain From Castile.
An epic tale, set against the early 16th-century backdrop of the Spanish Inquisition and Hernán Cortés's colonization of the Americas. When the aristocratic Vargas family falls afoul of Diego de Silva, a corrupt member of Spain's ruling elite, young Pedro de Vargas flees for Mexico to serve under the upstart General Cortés. (But not before we're treated to horrific scenes of prisoners of the Inquisition — including Pedro's sister — tortured on the rack.) Along for the ride are Pedro's friends are fellow fugitive Juan Garcia and Catana Perez, tavern girl turned brave adventurer. The political intrigue continues in the New World, where the Spanish governor of the Indies and Cortés are at odds over both the spoils of conquest and control of the conquered lands. Shellabarger doesn't shrink from describing how thousands of Indians are mown down by the bloody swords and pikes of the Spaniards; Pedro, by the way, doesn't question the morality of any of this — though earlier in the novel, he'd helped an Indian slave escape from his Spanish master. Shellabarger's evocation of the Aztec civilization is vivid; the reader mourns its passing, even if our protagonist does not. After many adventures, the now-wealthy Pedro returns to Spain — like Odysseus, or Dantès — to reclaim his stolen land, and to reconnet with Luisa, beautiful daughter of the local marquis. But you can't go home again; Pedro is a New Worlder, now. Although there are too many peripheral characters, and although the action flags when Pedro and Cortés's army are encamped in Tenochtitlan, overall this is a gripping yarn.
Fun facts: Not wanting to undermine the credibility of his scholarly works by publishing fiction, Shellabarger used pen names for his novels — until this one. The first half of Captain from Castile was adapted as a 1947 movie starring Tyrone Power, Jean Peters, and Cesar Romero. The movie was shot on location in Michoacán, Mexico.
***
JOSH GLENN'S *BEST ADVENTURES* LISTS: BEST 250 ADVENTURES OF THE 20TH CENTURY | 100 BEST OUGHTS ADVENTURES | 100 BEST RADIUM AGE (PROTO-)SCI-FI ADVENTURES | 100 BEST TEENS ADVENTURES | 100 BEST TWENTIES ADVENTURES | 100 BEST THIRTIES ADVENTURES | 75 BEST GOLDEN AGE SCI-FI ADVENTURES | 100 BEST FORTIES ADVENTURES | 100 BEST FIFTIES ADVENTURES | 100 BEST SIXTIES ADVENTURES | 75 BEST NEW WAVE SCI FI ADVENTURES | 100 BEST SEVENTIES ADVENTURES | 100 BEST EIGHTIES ADVENTURES | 75 BEST DIAMOND AGE SCI-FI ADVENTURES | 100 BEST NINETIES ADVENTURES (in progress) | 1994 | 1995 | 1996 | 1997 | 1998 | 1999 | 2000 | 2001 | 2002 | 2003 | NOTES ON 21st-CENTURY ADVENTURES.