Best 1944 Adventures (3)
By: Joshua Glenn
June 22, 2019
One in a series of 10 posts identifying Josh Glenn's favorite 1944 adventure novels.
*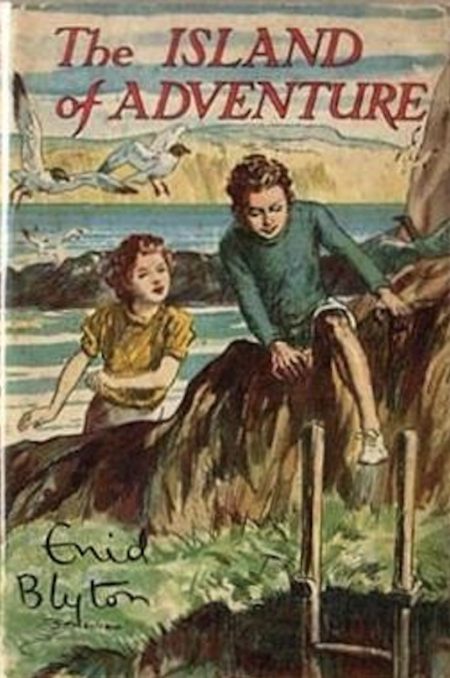 Enid Blyton's children's adventure The Island of Adventure.
The prolific English children's writer Enid Blyton is best remembered for her Famous Five and Secret Seven series; The Island of Adventure is the first in what would become Blyton's Adventure series. Here, orphaned Jack and Lucy-Ann move in with Philip and Dinah Mannering, who live with their difficult uncle and aunt at their massive but rundown home on the English coast. Philip and Jack, both in their early teens, are amateur naturalists: the former an animal lover, the latter a birder whose pet cockatoo, Kiki, can repeat a large number of phrases. Dinah and Lucy-Ann, who are younger, are also — like all of Blyton's female characters — less well-rounded. Strange lights on the mysterious Island of Gloom draw the four into an adventure down a dark well, inside an abandoned copper mine, and through a network of secret undersea tunnels. A mysterious grownup, the balding Bill Smugs, plays an important role in their escapade, as well. Today, Blyton is rightfully scorned by librarians and others as a peddler of formulaic plots, casual sexism and racism, and jingoistic attitudes towards non-English characters, every single one of whom is untrustworthy; still, along with Arthur Ransome, she helped popularize the idea that unsupervised kids can be resourceful and daring — so let them roam.
Fun facts: The first edition of The Island of Adventure was illustrated by Stuart Tresilian. Blyton reportedly wrote each of her many — over 700! — books in less than a week; in 1944 alone, she also published the Famous Five installment Five Run Away Together, the Five Finder-Outers installment The Mystery of the Disappearing Cat, and over 20 other books. The Adventure series were adapted for New Zealand TV in 1996.
***
JOSH GLENN'S *BEST ADVENTURES* LISTS: BEST 250 ADVENTURES OF THE 20TH CENTURY | 100 BEST OUGHTS ADVENTURES | 100 BEST RADIUM AGE (PROTO-)SCI-FI ADVENTURES | 100 BEST TEENS ADVENTURES | 100 BEST TWENTIES ADVENTURES | 100 BEST THIRTIES ADVENTURES | 75 BEST GOLDEN AGE SCI-FI ADVENTURES | 100 BEST FORTIES ADVENTURES | 100 BEST FIFTIES ADVENTURES | 100 BEST SIXTIES ADVENTURES | 75 BEST NEW WAVE SCI FI ADVENTURES | 100 BEST SEVENTIES ADVENTURES | 100 BEST EIGHTIES ADVENTURES | 75 BEST DIAMOND AGE SCI-FI ADVENTURES | 100 BEST NINETIES ADVENTURES (in progress) | 1994 | 1995 | 1996 | 1997 | 1998 | 1999 | 2000 | 2001 | 2002 | 2003 | NOTES ON 21st-CENTURY ADVENTURES.