Best 1944 Adventures (2)
By: Joshua Glenn
June 21, 2019
One in a series of 10 posts identifying Josh Glenn's favorite 1944 adventure novels.
*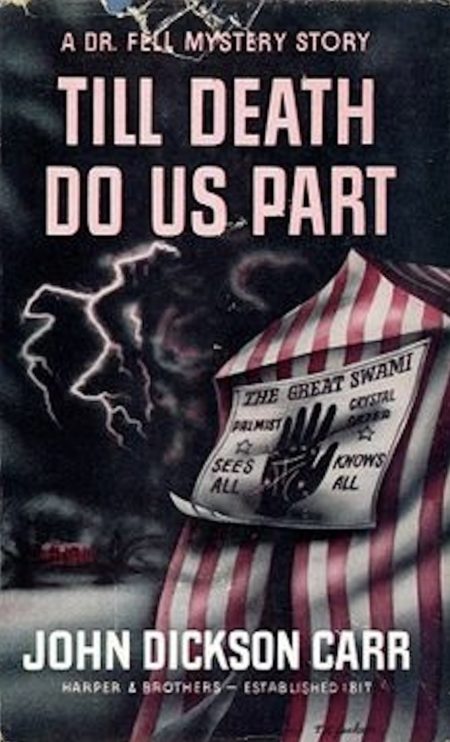 John Dickson Carr's Dr. Gideon Fell crime adventure Till Death Do Us Part.
Dick Markham, a playwright who specializes in psychological thrillers, has just announced his engagement to a beautiful but mysterious newcomer, Lesley Grant — much to the chagrin of his former girlfriend, Cynthia. At a village bazaar, Lesley visits a fortune teller; the turbaned man, who happens to be Sir Harvey Gilman, Home Office police pathologist, says something that causes her to flee his tent… and then, to make matters worse, while he is talking to Markham, Lesley accidentally shoots and wounds Gilman. Markham discovers, from the injured Gilman, that Lesley has been married twice and engaged once more — and that all of these men have died of prussic acid poisoning while behind locked doors. And then Gilman dies of prussic acid poisoning, while locked safely in his cottage. Things look bleak for Lesley, until the obese, eccentric detective Dr. Gideon Fell shows up. What is the significance of a box of drawing pins found scattered beside the corpse? Who fired a rifle into the room in the early hours of the next morning? Who killed Gilman, why, and how did they lock the door? Or was it suicide? The chapters are short and gripping, and there are plenty of red herrings and false trails.
Fun facts: Dr. Fell is considered to be Carr's major creation, one of the great successors — besides Father Brown and Nero Wolfe — to Sherlock Holmes. This is the character's 15th outing; Carr considered it one of his best impossible crime novels.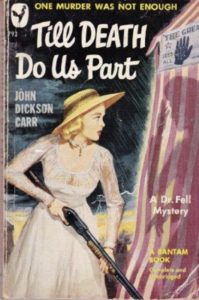 ***
JOSH GLENN'S *BEST ADVENTURES* LISTS: BEST 250 ADVENTURES OF THE 20TH CENTURY | 100 BEST OUGHTS ADVENTURES | 100 BEST RADIUM AGE (PROTO-)SCI-FI ADVENTURES | 100 BEST TEENS ADVENTURES | 100 BEST TWENTIES ADVENTURES | 100 BEST THIRTIES ADVENTURES | 75 BEST GOLDEN AGE SCI-FI ADVENTURES | 100 BEST FORTIES ADVENTURES | 100 BEST FIFTIES ADVENTURES | 100 BEST SIXTIES ADVENTURES | 75 BEST NEW WAVE SCI FI ADVENTURES | 100 BEST SEVENTIES ADVENTURES | 100 BEST EIGHTIES ADVENTURES | 75 BEST DIAMOND AGE SCI-FI ADVENTURES | 100 BEST NINETIES ADVENTURES (in progress) | 1994 | 1995 | 1996 | 1997 | 1998 | 1999 | 2000 | 2001 | 2002 | 2003 | NOTES ON 21st-CENTURY ADVENTURES.