Best 1944 Adventures (1)
By: Joshua Glenn
June 20, 2019
One in a series of 10 posts identifying Josh Glenn's favorite 1944 adventure novels.
*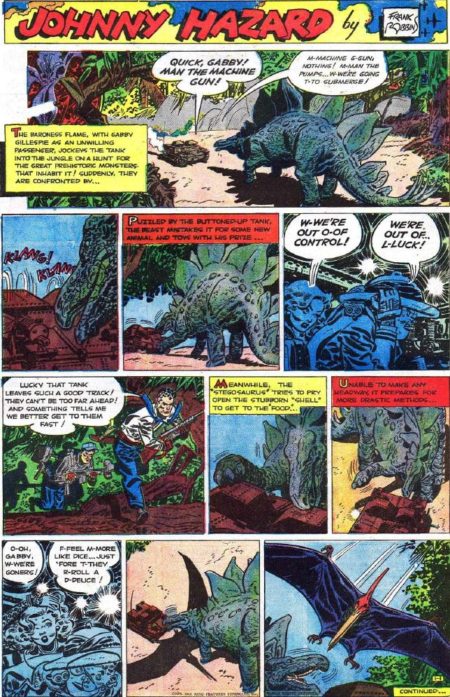 Frank Robbins's action-adventure comic strip Johnny Hazard (1944–1977).
During the 1930s and '40s, several long-running aviation action-adventure strips got their starts in America's newspapers — including Hal Forrest's Tailspin Tommy, Roy Crane's Buz Sawyer, Milton Caniff's Steve Canyon, and John Terry's Scorchy Smith. Noel Sickles took over Scorchy Smith in 1933, and revolutionized the medium thanks to his impressionistic style, cinematic compositions, and chiaroscuro-like use of contrasts of light to achieve a sense of volume; he influenced not only Caniff, but Frank Robbins, who took over Scorchy Smith in 1939. In 1944, Robbins launched Johnny Hazard, about an Army Air Corps flyer dealing with Japanese occupying forces in China — which put his strip in direct competition with Caniff's Terry and the Pirates. (Caniff's strip had better characters and plot lines; but there are those who argue that Robbins's art work was bolder, more dramatic than Caniff's.) Johnny Hazard was launched on June 5, 1944 — one day before D-Day; so the premise of the strip (which kicks off with an exciting prison-camp escape) had to be quickly retooled. After the war, Hazard became a civilian flyer, then a secret agent. For over thirty years, every single day, the two-fisted Hazard confronted spies, smugglers, crooks, sci-fi menaces, and other period-appropriate villains. Not only did his antagonists change with time, so did Hazard — by the early 1950s, he was gray at the temples; was Reed Richards's look modeled after his?
Fun facts: Robbins began writing Batman comics in 1968; he helped create the character Man-Bat, among others. (Richard Gagnon calls Robbins "the Batman's first true auteur.") In 1975, he and Roy Thomas started the Marvel title The Invaders; he co-created the characters Union Jack and Spitfire. Robbins is also known for his work on Captain America and Ghost Rider.
***
JOSH GLENN'S *BEST ADVENTURES* LISTS: BEST 250 ADVENTURES OF THE 20TH CENTURY | 100 BEST OUGHTS ADVENTURES | 100 BEST RADIUM AGE (PROTO-)SCI-FI ADVENTURES | 100 BEST TEENS ADVENTURES | 100 BEST TWENTIES ADVENTURES | 100 BEST THIRTIES ADVENTURES | 75 BEST GOLDEN AGE SCI-FI ADVENTURES | 100 BEST FORTIES ADVENTURES | 100 BEST FIFTIES ADVENTURES | 100 BEST SIXTIES ADVENTURES | 75 BEST NEW WAVE SCI FI ADVENTURES | 100 BEST SEVENTIES ADVENTURES | 100 BEST EIGHTIES ADVENTURES | 75 BEST DIAMOND AGE SCI-FI ADVENTURES | 100 BEST NINETIES ADVENTURES (in progress) | 1994 | 1995 | 1996 | 1997 | 1998 | 1999 | 2000 | 2001 | 2002 | 2003 | NOTES ON 21st-CENTURY ADVENTURES.