Best 1934 Adventures (5)
By: Joshua Glenn
June 9, 2019
One in a series of 10 posts identifying Josh Glenn's favorite 1934 adventure novels.
*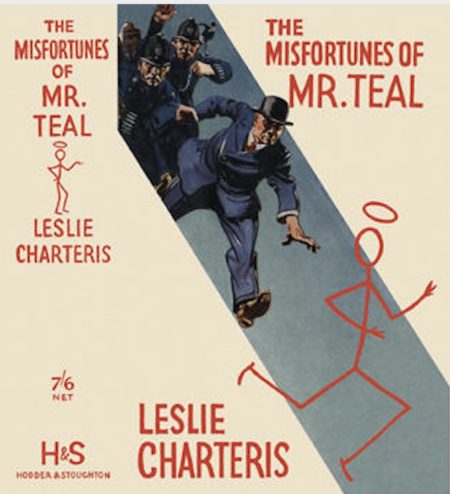 Leslie Charteris's Simon Templar adventure The Misfortunes of Mr. Teal (The Saint in England, 1934).
The Saint's twelfth outing remains one of my favorites — it's a transition point between the super-British early stories, and the later, more Americanized action hero the Saint would become. In fact, as "The Simon Templar Foundation," the first of three novellas collected here, recounts, Templar has just returned from America — with Bronx sidekick Hoppy Uniatz in tow. On his deathbed, Rayt Marius, the WWI-era arms dealer whom the Saint had vanquished in The Last Hero (1929), plays one last dirty trick: He sends information to the Saint about the criminal and treasonous wartime activities of prominent English industrialists, officials, and eminent politicians… but also tells these men what he's done, to encourage them to kill Templar before he can blackmail and otherwise ruin them. Uniatz is a terrific character — simultaneously menacing and comical, the closest I've seen to a template for Stan Lee's Ben Grimm. The other two novellas, here, are strongly reminiscent of late Tarzan stories: In "The Higher Finance," Templar finds himself in the midst of a bizarre case of impersonation and accidental death, and in "The Art of Alibi," a madman impersonates the Saint and frames him for murder and robbery. This latter story is the most over-the-top part of this collection, and it ends with a thrilling — for the time — aerial dogfight. The titular Mr. Teal is, of course, the Saint's foil: a Scotland Yard man.
Fun facts: Republished under two titles: The Saint in England and The Saint in London.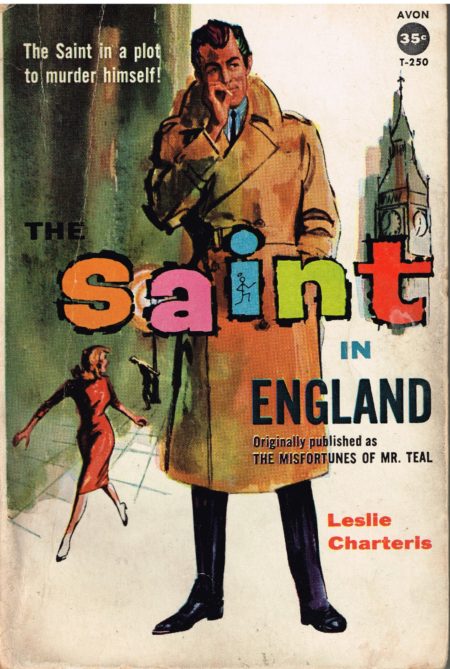 ***
JOSH GLENN'S *BEST ADVENTURES* LISTS: BEST 250 ADVENTURES OF THE 20TH CENTURY | 100 BEST OUGHTS ADVENTURES | 100 BEST RADIUM AGE (PROTO-)SCI-FI ADVENTURES | 100 BEST TEENS ADVENTURES | 100 BEST TWENTIES ADVENTURES | 100 BEST THIRTIES ADVENTURES | 75 BEST GOLDEN AGE SCI-FI ADVENTURES | 100 BEST FORTIES ADVENTURES | 100 BEST FIFTIES ADVENTURES | 100 BEST SIXTIES ADVENTURES | 75 BEST NEW WAVE SCI FI ADVENTURES | 100 BEST SEVENTIES ADVENTURES | 100 BEST EIGHTIES ADVENTURES | 75 BEST DIAMOND AGE SCI-FI ADVENTURES | 100 BEST NINETIES ADVENTURES (in progress) | 1994 | 1995 | 1996 | 1997 | 1998 | 1999 | 2000 | 2001 | 2002 | 2003 | NOTES ON 21st-CENTURY ADVENTURES.