Best 1934 Adventures (3)
By: Joshua Glenn
June 1, 2019
One in a series of 10 posts identifying Josh Glenn's favorite 1934 adventure novels.
*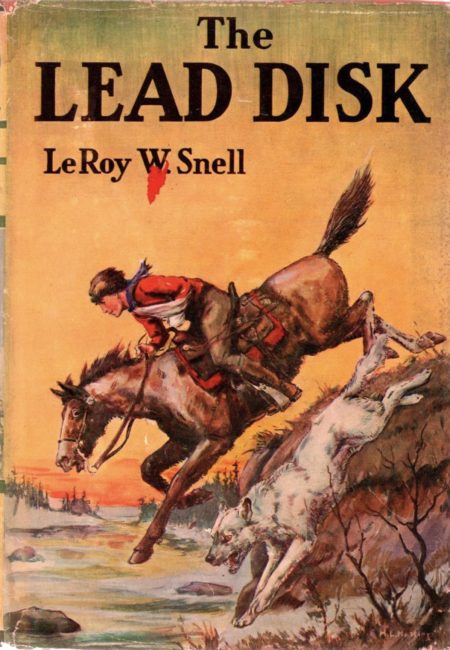 LeRoy W. Snell's Stories of the Northwest frontier adventure The Lead Disk.
A classic boy's adventure book of the period — by which I mean thrilling and stirring, and simultaneously two-dimensional and predictable. I've read it half a dozen times, since my father handed it along to me — it was one of his favorites, when he was a boy. Tom Haley is a college man who leaves school in disgrace… he's taken the fall for misbehavior by his older brother Steve, star quarterback and thoughtless jerk. Heading to Alberta, where his uncle is an officer in the Royal Canadian Northwest Mounted Police, Tom stumbles upon a criminal conspiracy known as the Lead Disk. He's befriended by Luke, a young cowboy from Montana, who's also left home in disgrace, and the two tangle with highwaymen en route to the Mounties' remote post… where Tom is rejected, by his uncle, who urges the young emigré to test his mettle in the wilderness before applying to the Mounties. Tom and Luke set up shop as fur trappers — there's a pleasing Robinsonade aspect to the story — before discovering gold underneath their cabin, which leads them back into trouble with the Lead Disk. There's a friendly Indian, a preternaturally intelligent wolf-dog, a hidden criminal hideout, and a beautiful Canadian girl, in the mix.
Fun facts: Additional installments in the Northwest Stories series (published by Cupples & Leon, who also cranked out The Bomba Books, Champion Sports Stories, Sorak Jungle Series,Top Notch Detective Stories, and The Baseball Joe Series) include: Shadow Patrol, The Wolf Cry, The Spirit of the North, and The Challenge of the Yukon.
***
JOSH GLENN'S *BEST ADVENTURES* LISTS: BEST 250 ADVENTURES OF THE 20TH CENTURY | 100 BEST OUGHTS ADVENTURES | 100 BEST RADIUM AGE (PROTO-)SCI-FI ADVENTURES | 100 BEST TEENS ADVENTURES | 100 BEST TWENTIES ADVENTURES | 100 BEST THIRTIES ADVENTURES | 75 BEST GOLDEN AGE SCI-FI ADVENTURES | 100 BEST FORTIES ADVENTURES | 100 BEST FIFTIES ADVENTURES | 100 BEST SIXTIES ADVENTURES | 75 BEST NEW WAVE SCI FI ADVENTURES | 100 BEST SEVENTIES ADVENTURES | 100 BEST EIGHTIES ADVENTURES | 75 BEST DIAMOND AGE SCI-FI ADVENTURES | 100 BEST NINETIES ADVENTURES (in progress) | 1994 | 1995 | 1996 | 1997 | 1998 | 1999 | 2000 | 2001 | 2002 | 2003 | NOTES ON 21st-CENTURY ADVENTURES.