Best 1924 Adventures (9)
By: Joshua Glenn
April 26, 2019
One in a series of 10 posts identifying Josh Glenn's favorite 1924 adventure novels. Happy 95th anniversary!
*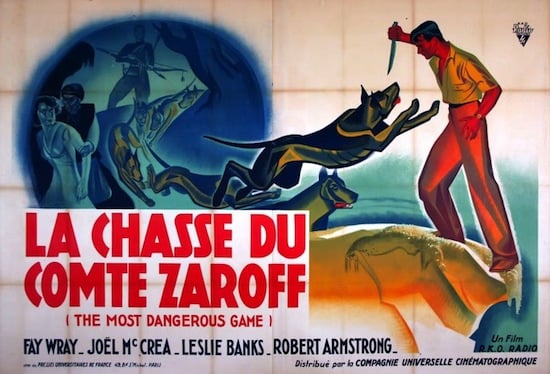 Richard Connell's hunted-man story "The Most Dangerous Game."
This example of the hunted-man sub-genre of adventure fiction is so influential — at midcentury, it was aped in shows from Star Trek and The Outer Limits to Get Smart and Gilligan's Island — that I'm including it on this list, even though it is not a novel. Sanger Rainsford, a famous hunter headed to the Amazon to hunt big cats, falls off a yacht — but manages to swim to a nearby island notorious for shipwrecks. There, he meets General Zaroff, a fellow big-game hunter who's grown tired of stalking animals; instead, he — and his dogs; and a gigantic deaf-mute, Ivan — stalks shipwrecked sailors! Zaroff gives Rainsford a choice: become his next human prey, or be tortured by Ivan. The next day, given a three-hour headstart, the wilderness-wise Rainsford leaves a false trail for Zaroff; but Zaroff finds him easily. On the second day, Rainsford builds a Malay man-catcher, with which he manages to slightly wound Zaroff; and on the third and final day of the hunt, he manages to kill Ivan with a Ugandan knife trap. Cornered by Zaroff and his hounds, Rainsford dives off a cliff — will he survive?
Fun facts: First published in Collier's, the story was memorably adapted, as a 1932 movie starring Joel McCrea, by Ernest B. Schoedsack and Merian C. Cooper, co-directors of King Kong; it was shot on the King Kong set. Other adaptations have starred Richard Widmark, Robert Reed, and Jean-Claude Van Damme. Orson Welles and Keenan Wynn's 1943 radio adaption is also well worth a listen.
***
JOSH GLENN'S *BEST ADVENTURES* LISTS: BEST 250 ADVENTURES OF THE 20TH CENTURY | 100 BEST OUGHTS ADVENTURES | 100 BEST RADIUM AGE (PROTO-)SCI-FI ADVENTURES | 100 BEST TEENS ADVENTURES | 100 BEST TWENTIES ADVENTURES | 100 BEST THIRTIES ADVENTURES | 75 BEST GOLDEN AGE SCI-FI ADVENTURES | 100 BEST FORTIES ADVENTURES | 100 BEST FIFTIES ADVENTURES | 100 BEST SIXTIES ADVENTURES | 75 BEST NEW WAVE SCI FI ADVENTURES | 100 BEST SEVENTIES ADVENTURES | 100 BEST EIGHTIES ADVENTURES | 75 BEST DIAMOND AGE SCI-FI ADVENTURES | 100 BEST NINETIES ADVENTURES (in progress) | 1994 | 1995 | 1996 | 1997 | 1998 | 1999 | 2000 | 2001 | 2002 | 2003 | NOTES ON 21st-CENTURY ADVENTURES.