Best 1914 Adventures (6)
By: Joshua Glenn
April 9, 2019
One in a series of 10 posts identifying Josh Glenn's favorite 1914 adventure novels. Happy 105th anniversary!
*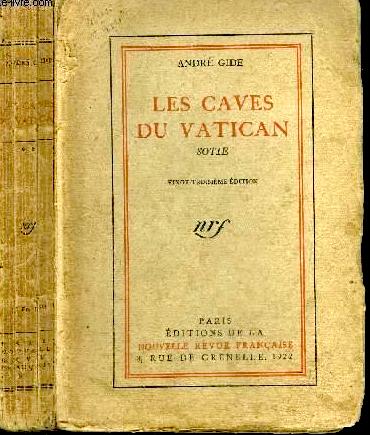 André Gide's picaresque Les caves du Vatican (in English: Lafcadio's Adventures, The Vatican Catacombs, other titles).
Gide described this antic, Shakespearean comedy-style yarn, set in 1890s Paris and Rome, as a sotie — that is, a satirical play exposing humankind's foolishness. Bourgeois morality and complacent religiosity do take a beating, here. Three of our five protagonists are Anthime, a pedantic freethinker and scientist living in Rome, who experiences a religious conversion; Julius, a smug, middlebrow Parisian novelist hoping to win a Nobel prize by writing a crime novel about an acte gratuit — an action that is unmotivated; and Amédée, a devout, naive Catholic — all of whom are brothers-in-law, and all of whom become entangled to various degrees in a con game, the victims of which are led to believe that the Pope (Leo XIII, at the time) has been kidnapped, replaced with an imposter, and incarcerated underneath the Vatican. Our fourth protagonist is Protos, a con man who poses as a Catholic priest raising money to rescue the true Pope from the Freemasons; and our fifth is Lafcadio, a teenaged would-be ubermensch who reads nothing but adventures like Aladdin and Robinson Crusoe, and whose goal in life is to perform an acte gratuit — whether for good or ill. When Lafcadio, whom we discover is the illegitimate half-brother of Julius and a former schoolmate of Protos, encounters Amédée, who has headed out to singlehandedly rescue the Pope, who will survive the encounter — the hero or the antihero?
Fun facts: First serialized January–April 1914 in La Nouvelle Revue Française. Gide was among those few French writers of the early 20th century who took inspiration from pulp fiction, as a rebuke to the earnestness of highbrow European fiction. A few years later, André Breton would write, to fellow absurdist litterateur Tristan Tzara, "You can't imagine how much André Gide is on our side."
***
JOSH GLENN'S *BEST ADVENTURES* LISTS: BEST 250 ADVENTURES OF THE 20TH CENTURY | 100 BEST OUGHTS ADVENTURES | 100 BEST RADIUM AGE (PROTO-)SCI-FI ADVENTURES | 100 BEST TEENS ADVENTURES | 100 BEST TWENTIES ADVENTURES | 100 BEST THIRTIES ADVENTURES | 75 BEST GOLDEN AGE SCI-FI ADVENTURES | 100 BEST FORTIES ADVENTURES | 100 BEST FIFTIES ADVENTURES | 100 BEST SIXTIES ADVENTURES | 75 BEST NEW WAVE SCI FI ADVENTURES | 100 BEST SEVENTIES ADVENTURES | 100 BEST EIGHTIES ADVENTURES | 75 BEST DIAMOND AGE SCI-FI ADVENTURES | 100 BEST NINETIES ADVENTURES (in progress) | 1994 | 1995 | 1996 | 1997 | 1998 | 1999 | 2000 | 2001 | 2002 | 2003 | NOTES ON 21st-CENTURY ADVENTURES.