Best 1904 Adventures (10)
By: Joshua Glenn
February 14, 2019
One in a series of 10 posts identifying Josh Glenn's favorite 1904 adventure novels. Happy 115th anniversary!
*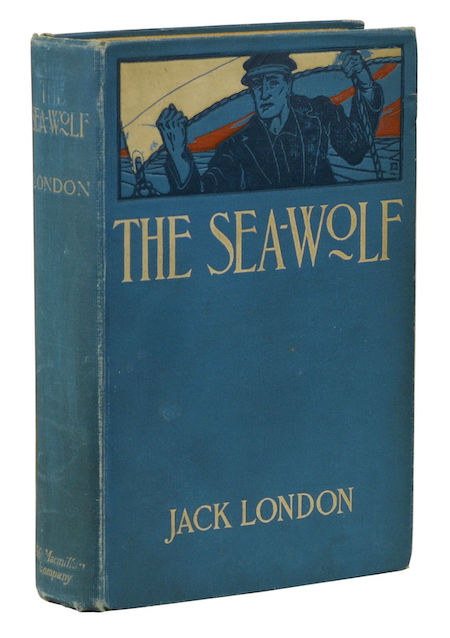 Jack London's philosophical sea-going adventure The Sea-Wolf.
In this grown-up version of Kipling's Captains Courageous, an effete young intellectual — Humphrey van Weyden, whose favorite philosophers are Nietzsche and Schopenhauer — is rescued from a shipwreck in the San Francisco Bay by a brutal schooner captain, Wolf Larsen, who takes his unwilling passenger along on a seal-hunting voyage. Larsen is a quasi-Nietzschean cynic who believes in nothing but the pursuit of pleasure and the triumph of strength over weakness; he thoroughly enjoys browbeating "Hump" while forcing him to do menial work and learn how to defend himself. There are a few thrills: a mutiny attempt, during which Larsen singlehandedly fights half a dozen mutineers; a survival ordeal on an uninhabited island; a violent storm. And there is an unsatisfactory, distracting romance plot — which begins when Larsen also rescues a beautiful woman. But primarily, this is a novel of ideas in which London stress-tests such un-Nietzschean notions as the eternal soul and inherent good.
Fun facts: Ambrose Bierce wrote, "The great thing [about The Sea-Wolf] is that tremendous creation, Wolf Larsen… the hewing out and setting up of such a figure is enough for a man to do in one lifetime." Rugged actors who have portrayed Larsen in film adaptations include: Noah Beery (1920), Edward G. Robinson (1941), Barry Sullivan (1958), Chuck Connors (1975), Charles Bronson (1993), Stacy Keach (1997), and Sebastian Koch (2009).
***
JOSH GLENN'S *BEST ADVENTURES* LISTS: BEST 250 ADVENTURES OF THE 20TH CENTURY | 100 BEST OUGHTS ADVENTURES | 100 BEST RADIUM AGE (PROTO-)SCI-FI ADVENTURES | 100 BEST TEENS ADVENTURES | 100 BEST TWENTIES ADVENTURES | 100 BEST THIRTIES ADVENTURES | 75 BEST GOLDEN AGE SCI-FI ADVENTURES | 100 BEST FORTIES ADVENTURES | 100 BEST FIFTIES ADVENTURES | 100 BEST SIXTIES ADVENTURES | 75 BEST NEW WAVE SCI FI ADVENTURES | 100 BEST SEVENTIES ADVENTURES | 100 BEST EIGHTIES ADVENTURES | 75 BEST DIAMOND AGE SCI-FI ADVENTURES | 100 BEST NINETIES ADVENTURES (in progress) | 1994 | 1995 | 1996 | 1997 | 1998 | 1999 | 2000 | 2001 | 2002 | 2003 | NOTES ON 21st-CENTURY ADVENTURES.