Best 1904 Adventures (3)
By: Joshua Glenn
February 7, 2019
One in a series of 10 posts identifying Josh Glenn's favorite 1904 adventure novels. Happy 115th anniversary!
*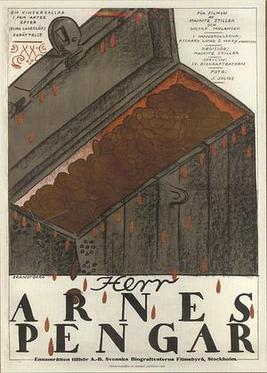 Selma Lagerlöf's occult thriller Herr Arnes penningar (English title, The Treasure).
In this Nordic-noir novella, when three brutal robbers invade and rob a wealthy household in Solberga, a town near Stockholm, Sweden, only one member of the family, the adopted orphan Elsalill, survives the massacre. She desires revenge — but as far as anyone knows, the robbers were killed when their sled broke through the surface of the frozen waterways leading to the ocean. Elsalill falls in love with Sir Archie, a wealthy soldier of fortune who arrives in town with two companions shortly after the robbers vanish; however, the ghost of her foster sister intercedes in their romance. Furthermore, Elsalill's ghostly companion begins to provide clues regarding the true identities and whereabouts of the murderous robbers. It's like a detective novel crossed with a Scandinavian saga — plus a ghost story. It's very atmospheric and gloomy, with bloody footprints, raging blizzards, ships unable to break through uncannily thick ice, and mounting tension — which ends in a final act of violent self-sacrifice. Plus, there's a dog, Grim, who knew what was going on the entire time.
Fun facts: Adapted in 1919 by Mauritz Stiller as a movie, Herr Arnes pengar, starring Richard Lund, Hjalmar Selander, Concordia Selander, and Mary Johnson. In 1909, Lagerlöf would become the first female writer to win a Nobel Prize.
***
JOSH GLENN'S *BEST ADVENTURES* LISTS: BEST 250 ADVENTURES OF THE 20TH CENTURY | 100 BEST OUGHTS ADVENTURES | 100 BEST RADIUM AGE (PROTO-)SCI-FI ADVENTURES | 100 BEST TEENS ADVENTURES | 100 BEST TWENTIES ADVENTURES | 100 BEST THIRTIES ADVENTURES | 75 BEST GOLDEN AGE SCI-FI ADVENTURES | 100 BEST FORTIES ADVENTURES | 100 BEST FIFTIES ADVENTURES | 100 BEST SIXTIES ADVENTURES | 75 BEST NEW WAVE SCI FI ADVENTURES | 100 BEST SEVENTIES ADVENTURES | 100 BEST EIGHTIES ADVENTURES | 75 BEST DIAMOND AGE SCI-FI ADVENTURES | 100 BEST NINETIES ADVENTURES (in progress) | 1994 | 1995 | 1996 | 1997 | 1998 | 1999 | 2000 | 2001 | 2002 | 2003 | NOTES ON 21st-CENTURY ADVENTURES.