Best 1904 Adventures (2)
By: Joshua Glenn
February 4, 2019
One in a series of 10 posts identifying Josh Glenn's favorite 1904 adventure novels. Happy 115th anniversary!
*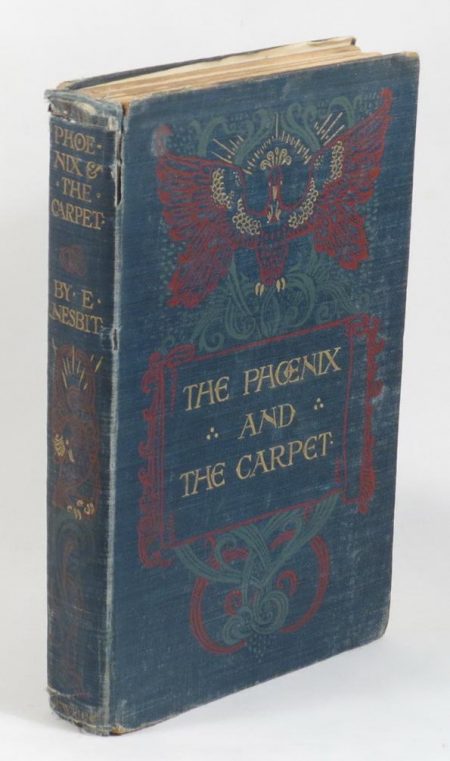 E. Nesbit's children's fantasy adventure The Phoenix and the Carpet.
Nesbit's writing is extraordinary, because: she is drily witty, in a way that makes her writing as entertaining to adults as to children; she was politically progressive, so there's not quite as much to cringe at as we find in her contemporaries' writing; and her conception of how magic and the everyday world might interact — the brilliant idea that magic has strict rules which need to be puzzled out, painfully — would prove influential on everyone from P.L. Travers to Edward Eager, C.S. Lewis, Diana Wynne Jones, and J.K. Rowling. Here, siblings Cyril, Anthea, Robert, and Jane, whom we first met in Five Children and It (1902), discover a flying carpet and an ancient Phoenix — a magnificent, vain creature which expects to be worshipped by modern Londoners. Over the course of several adventures, the children wear out the carpet's fabric — which causes it to malfunction, entertainingly. There's a burglar, a buried treasure, and a church jumble sale that goes entertainingly awry. Will the children figure out the best possible use for the carpet before it's too late?
Fun facts: The final installment in the Psammead series is The Story of the Amulet (1906). I'm also a fan of Nesbit's Bastable series, her House of Arden series (including 1908's The House of Arden), and her other children's novels — including The Railway Children (1906) and The Enchanted Castle (1907).
***
JOSH GLENN'S *BEST ADVENTURES* LISTS: BEST 250 ADVENTURES OF THE 20TH CENTURY | 100 BEST OUGHTS ADVENTURES | 100 BEST RADIUM AGE (PROTO-)SCI-FI ADVENTURES | 100 BEST TEENS ADVENTURES | 100 BEST TWENTIES ADVENTURES | 100 BEST THIRTIES ADVENTURES | 75 BEST GOLDEN AGE SCI-FI ADVENTURES | 100 BEST FORTIES ADVENTURES | 100 BEST FIFTIES ADVENTURES | 100 BEST SIXTIES ADVENTURES | 75 BEST NEW WAVE SCI FI ADVENTURES | 100 BEST SEVENTIES ADVENTURES | 100 BEST EIGHTIES ADVENTURES | 75 BEST DIAMOND AGE SCI-FI ADVENTURES | 100 BEST NINETIES ADVENTURES (in progress) | 1994 | 1995 | 1996 | 1997 | 1998 | 1999 | 2000 | 2001 | 2002 | 2003 | NOTES ON 21st-CENTURY ADVENTURES.