Best 1969 YA & YYA Lit (8)
By: Joshua Glenn
January 25, 2019
One in a series of 10 posts identifying Josh Glenn's favorite 1969 YA & YYA adventure novels. Happy 50th anniversary!
*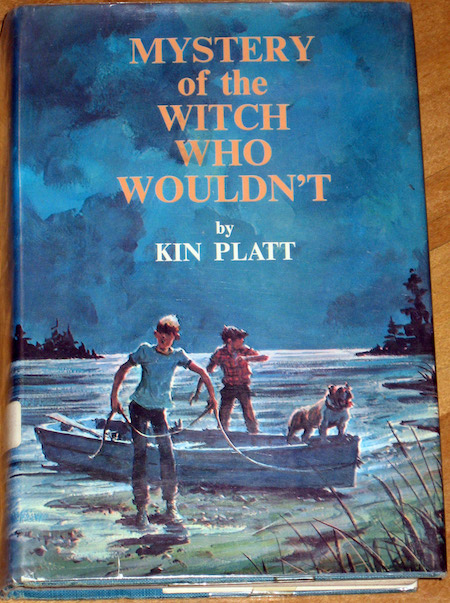 Kin Platt's supernatural/crime adventure Mystery Of The Witch Who Wouldn't.
This is a sequel to the entertaining, Edgar-award winning YA treasure-hunt adventure Sinbad and Me (1967), in which teenage friends Steve and Minerva unravel an 18th-century mystery in Hampton, Long Island — where Minerva's tough-guy father is sheriff. (Sinbad is Steve's English bulldog.) This time, Minerva begins to act strangely — as though she's been hypnotized; and so does her family's maid. Meanwhile, a time bomb nearly kills both Steve and the sheriff. With the help of his brainy friend Herk, Steve investigates the witch who wouldn't — that is to say, a local sorceress who refuses to help criminals steal a local scientist's secrets. The author has done his homework: We learn a lot about spellcraft and occult practices, not to mention a thing or two about Aleister Crowley. Demons are summoned! In the end, it's up to Steve to rescue Minerva from a storm-ravagd harbor island… before it's too late. An important part of this book's charm, for me, is the lack of parental supervision: Steve, Minerva, and Herk do more or less whatever they please.
Fun facts: Platt, who in the '30s wrote radio comedy for George Burns and Jack Benny, and in the '40s and '50s wrote and drew now-forgotten comic books, also wrote a couple dozen mysteries under various pen names. He is perhaps best-known today, however, as author of one of my all-time favorite children's picture books, Big Max (1965).
***
JOSH GLENN'S *BEST ADVENTURES* LISTS: BEST 250 ADVENTURES OF THE 20TH CENTURY | 100 BEST OUGHTS ADVENTURES | 100 BEST RADIUM AGE (PROTO-)SCI-FI ADVENTURES | 100 BEST TEENS ADVENTURES | 100 BEST TWENTIES ADVENTURES | 100 BEST THIRTIES ADVENTURES | 75 BEST GOLDEN AGE SCI-FI ADVENTURES | 100 BEST FORTIES ADVENTURES | 100 BEST FIFTIES ADVENTURES | 100 BEST SIXTIES ADVENTURES | 75 BEST NEW WAVE SCI FI ADVENTURES | 100 BEST SEVENTIES ADVENTURES | 100 BEST EIGHTIES ADVENTURES | 75 BEST DIAMOND AGE SCI-FI ADVENTURES | 100 BEST NINETIES ADVENTURES (in progress) | 1994 | 1995 | 1996 | 1997 | 1998 | 1999 | 2000 | 2001 | 2002 | 2003 | NOTES ON 21st-CENTURY ADVENTURES.