Best 1919 Adventures (7)
By: Joshua Glenn
January 10, 2019
One in a series of 10 posts identifying Josh Glenn's favorite 1919 adventure novels. Happy 100th anniversary!
*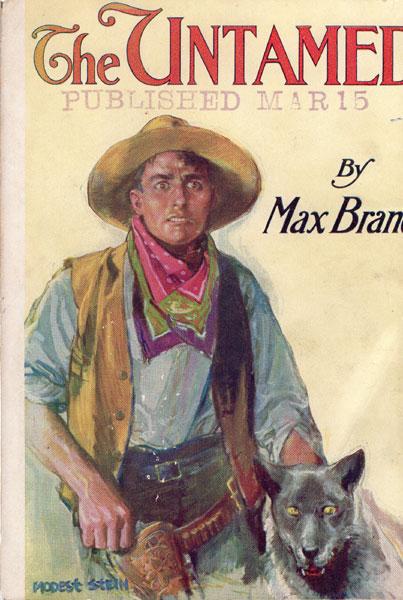 Max Brand's Dan Barry Western adventure The Untamed.
This is the original spaghetti western, featuring a loner protagonist with uncanny violent abilities, sympathetic villains, exaggerated western tropes (the dialogue can be downright corny), dreamlike landscapes, even a haunting soundtrack — Whistlin' Dan Barry's hypnotic whistling. Our protagonist is a mysterious figure who was found wandering in the Western wilderness as a child; he rides a black stallion (Satan), and is trailed by a black wolf-dog hybrid (Black Bart). Although he appears mild-mannered, unassuming, even naive, when pushed too far Barry transforms — like the Incredible Hulk — into an unstoppable killing machine, yellow-eyed and fiercely strong. (Is Whistlin' Dan a werewolf? wonder some of this novel's characters; is he a mutant? is this a science-fiction story? wonders this reader.) When train robber Jim Silent kidnaps Kate, daughter of Barry's adoptive father, Barry takes on not only the outlaw and his gang but the corrupt lawmen who protect them. There are exciting gunfights, fist-fights, horseback chases, a train robbery, a jailbreak, and a strangling. If the ending is unsatisfactory, it's because the author must have realized that he could get more mileage out of Whistlin' Dan if the semi-feral character remained an undomesticated outlaw.
Fun facts: Adapted in 1920 as a Tom Mix movie, and in 1931 as the pre-Code Western Fair Warning. Brand wrote two sequels: The Night Horseman (1920) and The Seventh Man (1921).
***
JOSH GLENN'S *BEST ADVENTURES* LISTS: BEST 250 ADVENTURES OF THE 20TH CENTURY | 100 BEST OUGHTS ADVENTURES | 100 BEST RADIUM AGE (PROTO-)SCI-FI ADVENTURES | 100 BEST TEENS ADVENTURES | 100 BEST TWENTIES ADVENTURES | 100 BEST THIRTIES ADVENTURES | 75 BEST GOLDEN AGE SCI-FI ADVENTURES | 100 BEST FORTIES ADVENTURES | 100 BEST FIFTIES ADVENTURES | 100 BEST SIXTIES ADVENTURES | 75 BEST NEW WAVE SCI FI ADVENTURES | 100 BEST SEVENTIES ADVENTURES | 100 BEST EIGHTIES ADVENTURES | 75 BEST DIAMOND AGE SCI-FI ADVENTURES | 100 BEST NINETIES ADVENTURES (in progress) | 1994 | 1995 | 1996 | 1997 | 1998 | 1999 | 2000 | 2001 | 2002 | 2003 | NOTES ON 21st-CENTURY ADVENTURES.