Best 1969 Adventures (7)
By: Joshua Glenn
December 17, 2018
One in a series of 10 posts identifying Josh Glenn's favorite 1969 adventure novels. Happy (upcoming) 50th anniversary!
*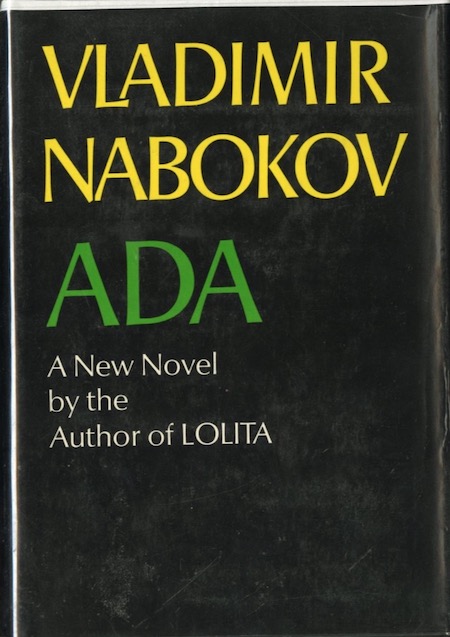 Vladimir Nabokov's New Wave sci-fi adventure Ada, or Ardor.
When he is fourteen, Van Veen, who will grow up to be a psychologist and renegade scholar, falls in love with his eleven-year-old cousin, Ada; they begin a life-long sexual affair, despite later discovering that they are half-siblings. The story begins in the early 19th century, though characters discuss airplanes, motion pictures, and other anachronistic technologies; everything is powered by water, and it is forbidden to mention electricity. Reference is made to an historical catastrophe referred to as "the L disaster," which has somehow "everted" (I borrow the term from a 1975 essay about this novel in Science Fiction Studies) time, earth, and sexual gender. Van and Ada — who are maybe somehow, respectively, Eve and Adam — live on a planet known as Antiterra, which is geographically similar to Earth, although politically England has conquered most of it, and American culture is influenced by Russia. Nineteen-Sixties culture is, somehow, a myth from the past. Trippy!
Fun facts: Ted Gioia has compared Ada to Philip K. Dick's The Man in the High Castle and other alternate-history works of science fiction. I might include works by Samuel R. Delany and Michael Moorcock in which the Beatles become mythical figures.
***
JOSH GLENN'S *BEST ADVENTURES* LISTS: BEST 250 ADVENTURES OF THE 20TH CENTURY | 100 BEST OUGHTS ADVENTURES | 100 BEST RADIUM AGE (PROTO-)SCI-FI ADVENTURES | 100 BEST TEENS ADVENTURES | 100 BEST TWENTIES ADVENTURES | 100 BEST THIRTIES ADVENTURES | 75 BEST GOLDEN AGE SCI-FI ADVENTURES | 100 BEST FORTIES ADVENTURES | 100 BEST FIFTIES ADVENTURES | 100 BEST SIXTIES ADVENTURES | 75 BEST NEW WAVE SCI FI ADVENTURES | 100 BEST SEVENTIES ADVENTURES | 100 BEST EIGHTIES ADVENTURES | 75 BEST DIAMOND AGE SCI-FI ADVENTURES | 100 BEST NINETIES ADVENTURES (in progress) | 1994 | 1995 | 1996 | 1997 | 1998 | 1999 | 2000 | 2001 | 2002 | 2003 | NOTES ON 21st-CENTURY ADVENTURES.