Best 1983 Adventures (9)
By: Joshua Glenn
November 13, 2018
One in a series of 10 posts identifying Josh Glenn's favorite 1983 adventure novels. Happy 35th anniversary!
*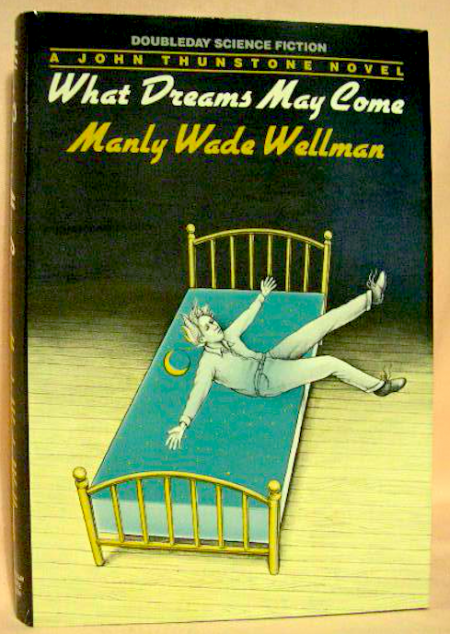 Manly Wade Wellman's John Thunstone occult-detective adventure What Dreams May Come.
In John Thunstone's first novel(la)-length outing, the sword cane-wielding paranormal investigator (whom readers first met in the pages of Weird Tales, in the 1940s) heads to England to investigate Old Thunder, a stone-age outline cut into a hillside, as well as the Dream Stone, a toppled menhir that resembles a human form. Pagan practices linger, in the sleepy village of Claines; is a malevolent entity that the villager's ancestors once worshiped as a god preparing to return? An atmospheric novel, where the tension builds slowly: Thunstone is welcomed to the town by the new constable, the town's vicar, and an attractive "white witch," but viewed with suspicion by other locals. Is Gram Ensley, the wealthy man who owns most of the town, and who ensures that Old Thunder's form is maintained, more than what he appears to be? Before Edgar Wright's Hot Fuzz, Wellman made English village preservationists seem not merely reactionary but possibly diabolical!
Fun facts: Although his occult-detective stories, starring John Thunstone, Judge Pursuivant, and the backwoods balladeer (!) Silver John, were published in a range of pulps, Wellman, who also wrote sci-fi, westerns, and comic books, is best remembered as one of the most popular 1940s contributors — with Seabury Quinn, August Derleth, Edmond Hamilton, and Robert Bloch — to Weird Tales.
***
JOSH GLENN'S *BEST ADVENTURES* LISTS: BEST 250 ADVENTURES OF THE 20TH CENTURY | 100 BEST OUGHTS ADVENTURES | 100 BEST RADIUM AGE (PROTO-)SCI-FI ADVENTURES | 100 BEST TEENS ADVENTURES | 100 BEST TWENTIES ADVENTURES | 100 BEST THIRTIES ADVENTURES | 75 BEST GOLDEN AGE SCI-FI ADVENTURES | 100 BEST FORTIES ADVENTURES | 100 BEST FIFTIES ADVENTURES | 100 BEST SIXTIES ADVENTURES | 75 BEST NEW WAVE SCI FI ADVENTURES | 100 BEST SEVENTIES ADVENTURES | 100 BEST EIGHTIES ADVENTURES | 75 BEST DIAMOND AGE SCI-FI ADVENTURES | 100 BEST NINETIES ADVENTURES (in progress) | 1994 | 1995 | 1996 | 1997 | 1998 | 1999 | 2000 | 2001 | 2002 | 2003 | NOTES ON 21st-CENTURY ADVENTURES.