Best 1983 Adventures (8)
By: Joshua Glenn
November 12, 2018
One in a series of 10 posts identifying Josh Glenn's favorite 1983 adventure novels. Happy 35th anniversary!
*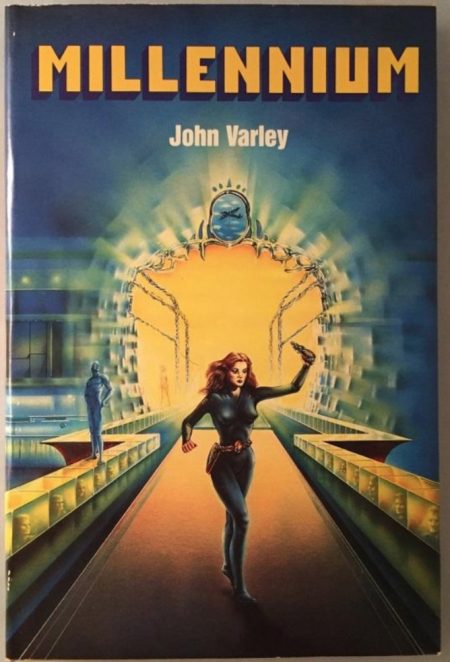 John Varley's sci-fi adventure Millennium.
Louise Baltimore, a disfigured, one-legged para-leper (!), is in charge of a "snatch team" that travels back in time from the distant future — the so-called "Last Age" — to various points in the past, and abducts people shortly before they were going to die or vanish anyway. Why? We're not sure, at first. On one such raid, Baltimore's team pops up in 1983, on-board an airplane in flight over Oakland, Calif., and hustles unsuspecting passengers into a time-gate shortly before the airplane is due to crash. However, when they are forced to kill a would-be hijacker, they leave behind one of their high-tech weapons. Our other protagonist, Bill Smith, is a National Safety Board investigator who discovers the weapon — and in so doing, sets off a temporal paradox that could cause a breakdown in the fabric of time itself. The plot quickly becomes complex, as time goes out of joint and changes in 1983 reverberate into the future. On top of all this, there is also a romance aspect to the story.
Fun facts: Millennium was developed from Varley's 1977 story "Air Raid," which he later developed into a screenplay; he then developed the screenplay into the novel. The film version, directed by Michael Anderson (Logan's Run) and starring Kris Kristofferson and Cheryl Ladd, appeared in 1989.
***
JOSH GLENN'S *BEST ADVENTURES* LISTS: BEST 250 ADVENTURES OF THE 20TH CENTURY | 100 BEST OUGHTS ADVENTURES | 100 BEST RADIUM AGE (PROTO-)SCI-FI ADVENTURES | 100 BEST TEENS ADVENTURES | 100 BEST TWENTIES ADVENTURES | 100 BEST THIRTIES ADVENTURES | 75 BEST GOLDEN AGE SCI-FI ADVENTURES | 100 BEST FORTIES ADVENTURES | 100 BEST FIFTIES ADVENTURES | 100 BEST SIXTIES ADVENTURES | 75 BEST NEW WAVE SCI FI ADVENTURES | 100 BEST SEVENTIES ADVENTURES | 100 BEST EIGHTIES ADVENTURES | 75 BEST DIAMOND AGE SCI-FI ADVENTURES | 100 BEST NINETIES ADVENTURES (in progress) | 1994 | 1995 | 1996 | 1997 | 1998 | 1999 | 2000 | 2001 | 2002 | 2003 | NOTES ON 21st-CENTURY ADVENTURES.