Best 1983 Adventures (7)
By: Joshua Glenn
November 11, 2018
One in a series of 10 posts identifying Josh Glenn's favorite 1983 adventure novels. Happy 35th anniversary!
*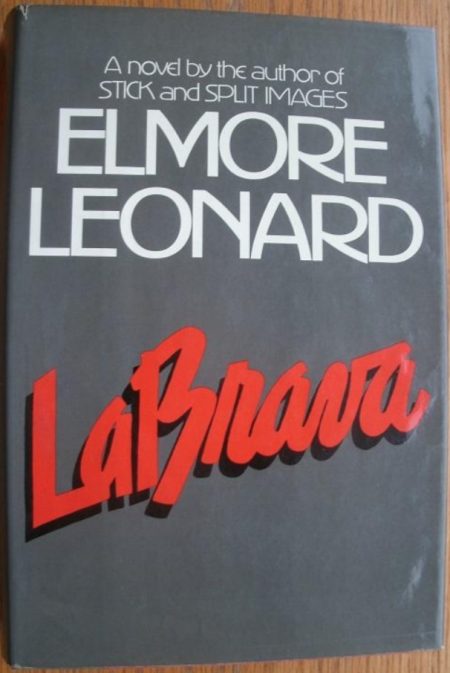 Elmore Leonard's crime adventure LaBrava.
When Miami street photographer Joe LaBrava meets the first woman he ever loved — former film noir star Jean Shaw — he is happy to help protect her from a couple of local hoodlums who appear to be shaking her down. LaBrava is, after all, a former Secret Service agent, who knows how to handle himself… even though his toughest assignment was guarding Bess Truman's home in Independence, Mo. The enigmatic Shaw, we discover, once wrote a rejected screenplay in which the femme fatale, for once, gets the guy and the loot; a version of this story plays out in the novel. LaBrava is an engaging hero — more concerned with photographing the inner essence of South Beach's retirees, gangsters, and crackpots than with bringing criminals to justice. Via his eighty-something friend Maury, a hotelier who's seen it all, we catch a glimpse of how Miami has changed since midcentury. The hoodlums are interesting characters, too: A redneck from Florida's swamp country, on the lam from his own kinfolk; and a bisexual Cuban marielito deported to the States by Fidel Castro when the Cambinado del Este prison was emptied out. Not my all-time favorite Leonard novel, but certainly in his top ten.
Fun facts: LaBrava, which was published the same year that Brian De Palma's Scarface revealed the seamy underbelly of Miami's South Beach (and a year before Miami Vice aired), won the Edgar Award — selected by the Mystery Writers of America — for Best Novel.
***
JOSH GLENN'S *BEST ADVENTURES* LISTS: BEST 250 ADVENTURES OF THE 20TH CENTURY | 100 BEST OUGHTS ADVENTURES | 100 BEST RADIUM AGE (PROTO-)SCI-FI ADVENTURES | 100 BEST TEENS ADVENTURES | 100 BEST TWENTIES ADVENTURES | 100 BEST THIRTIES ADVENTURES | 75 BEST GOLDEN AGE SCI-FI ADVENTURES | 100 BEST FORTIES ADVENTURES | 100 BEST FIFTIES ADVENTURES | 100 BEST SIXTIES ADVENTURES | 75 BEST NEW WAVE SCI FI ADVENTURES | 100 BEST SEVENTIES ADVENTURES | 100 BEST EIGHTIES ADVENTURES | 75 BEST DIAMOND AGE SCI-FI ADVENTURES | 100 BEST NINETIES ADVENTURES (in progress) | 1994 | 1995 | 1996 | 1997 | 1998 | 1999 | 2000 | 2001 | 2002 | 2003 | NOTES ON 21st-CENTURY ADVENTURES.