Best 1983 Adventures (1)
By: Joshua Glenn
November 3, 2018
One in a series of 10 posts identifying Josh Glenn's favorite 1983 adventure novels. Happy 35th anniversary!
*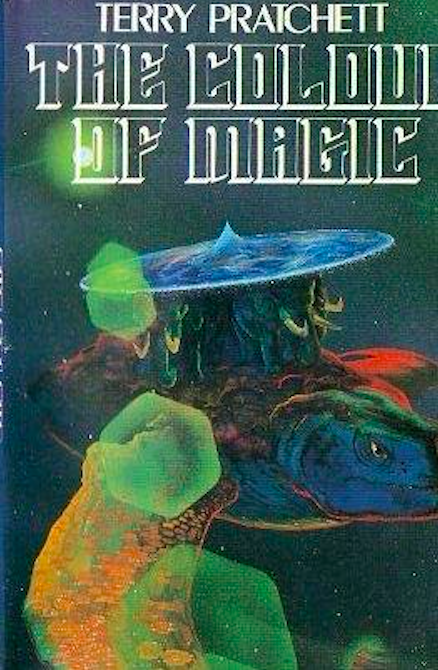 Terry Pratchett's comical fantasy adventure The Colour of Magic.
There are plenty of people who will insist that you have to read this book. But you don't, you really don't — and if you do, it's best to keep your expectations low, particularly if (like me) you have a low tolerance for silliness. Having warned you, I will say that the first installment in Pratchett's sprawling Discworld series — there are over 40 books — is wildly imaginative and intelligent, and can sometimes be quite entertaining. Twoflower is a wealthy, naively optimistic "inn-sewer-ants" adjuster who visits the city of Ankh-Morpork, on Discworld — a flat planet balanced on the backs of four elephants who stand on the back of a giant turtle. Rincewind, a failed student at the Unseen University for wizards in Ankh-Morpork, takes it upon himself to act as Twoflower's guide. Together, they face pirates, dragonriders, supernatural entities, and all sorts of stock fantasy characters offering a sardonic twist on the fiction of Tolkien, Lovecraft, Anne McCaffrey, Fritz Leiber, and Robert E. Howard, not to mention mythology, folklore, Shakespeare, and fairy tales. It's a picaresque, really, divided into four sections; our protagonists are caught up in a game played by the gods, so there isn't much in the way of plot progression. The puns, inside jokes, and social and political commentary are delivered at a furious pace.
Fun facts: Pratchett, who for years was the UK's best-selling author, described this book as "an attempt to do for the classical fantasy universe what Blazing Saddles did for Westerns." More than 80 million (!) Discworld books have been sold.
***
JOSH GLENN'S *BEST ADVENTURES* LISTS: BEST 250 ADVENTURES OF THE 20TH CENTURY | 100 BEST OUGHTS ADVENTURES | 100 BEST RADIUM AGE (PROTO-)SCI-FI ADVENTURES | 100 BEST TEENS ADVENTURES | 100 BEST TWENTIES ADVENTURES | 100 BEST THIRTIES ADVENTURES | 75 BEST GOLDEN AGE SCI-FI ADVENTURES | 100 BEST FORTIES ADVENTURES | 100 BEST FIFTIES ADVENTURES | 100 BEST SIXTIES ADVENTURES | 75 BEST NEW WAVE SCI FI ADVENTURES | 100 BEST SEVENTIES ADVENTURES | 100 BEST EIGHTIES ADVENTURES | 75 BEST DIAMOND AGE SCI-FI ADVENTURES | 100 BEST NINETIES ADVENTURES (in progress) | 1994 | 1995 | 1996 | 1997 | 1998 | 1999 | 2000 | 2001 | 2002 | 2003 | NOTES ON 21st-CENTURY ADVENTURES.