Best 1978 Adventures (10)
By: Joshua Glenn
October 30, 2018
One in a series of 10 posts identifying Josh Glenn's favorite 1978 adventure novels. Happy 40th anniversary!
*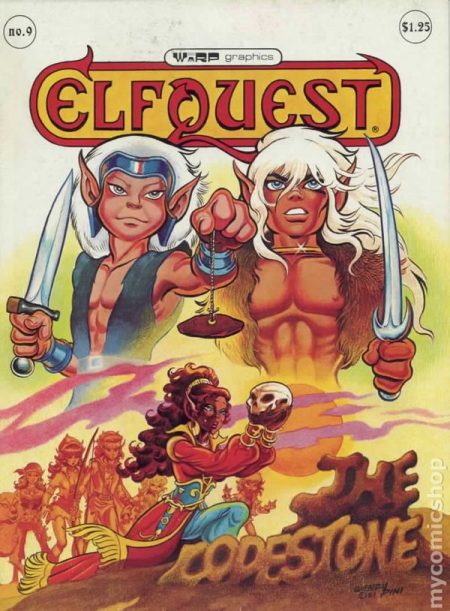 Wendy Pini and Richard Pini's fantasy adventure comic Elfquest (Original Quest, 1978–1984).
The Wolfriders are a band of feral, forest-dwelling elves who form close bonds with the wolves they ride; all of them can "send" (communicate telepathically), and some of them have other powers. When the superstitious humans with whom they've clashed in the past set fire to the forest, Cutter, the Wolfriders' chief, leads his tribe — including the wise-cracking stargazer Skywise, the huntress Nightfall, the plant-shaper Redlance, and the warrior Strongbow — to the underground caverns of their greedy, untrustworthy trade partners, the trolls… who take the elves down a long tunnel, under an otherwise impassable mountain range, then strand them in the merciless desert on the mountains' far side. After an arduous journey across this wasteland, the Wolfriders discover that all elves are descended from the High Ones — who appear to be highly advanced humanoid aliens, who'd visited the planet only to be all but massacred by its human inhabitants! What will happen when two elven tribes converge? This terrific series has been called "one of the most beautifully crafted, well thought out comic book fantasy epics of all time."
Fun facts: Starting with Elfquest #2, the Pinis — Wendy wrote and drew the comic, Richard co-wrote it — self-published their story as a magazine with glossy full color covers. It was an underground hit.
***
JOSH GLENN'S *BEST ADVENTURES* LISTS: BEST 250 ADVENTURES OF THE 20TH CENTURY | 100 BEST OUGHTS ADVENTURES | 100 BEST RADIUM AGE (PROTO-)SCI-FI ADVENTURES | 100 BEST TEENS ADVENTURES | 100 BEST TWENTIES ADVENTURES | 100 BEST THIRTIES ADVENTURES | 75 BEST GOLDEN AGE SCI-FI ADVENTURES | 100 BEST FORTIES ADVENTURES | 100 BEST FIFTIES ADVENTURES | 100 BEST SIXTIES ADVENTURES | 75 BEST NEW WAVE SCI FI ADVENTURES | 100 BEST SEVENTIES ADVENTURES | 100 BEST EIGHTIES ADVENTURES | 75 BEST DIAMOND AGE SCI-FI ADVENTURES | 100 BEST NINETIES ADVENTURES (in progress) | 1994 | 1995 | 1996 | 1997 | 1998 | 1999 | 2000 | 2001 | 2002 | 2003 | NOTES ON 21st-CENTURY ADVENTURES.