Best 1978 Adventures (2)
By: Joshua Glenn
October 22, 2018
One in a series of 10 posts identifying Josh Glenn's favorite 1978 adventure novels. Happy 40th anniversary!
*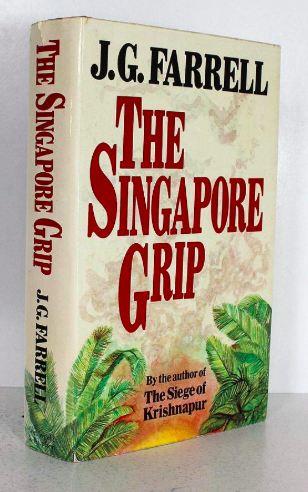 J.G. Farrell's satirical military-historical adventure The Singapore Grip.
The first major battle of WWII's Pacific Theater was the Japanese invasion of British Malaya, and rout of the troops stationed on the island of Singapore, the jewel in the crown of the British Empire's South-East Asian interests. Farrell's novel — the final in the Anglo-Irish author's so-called Empire Trilogy — finds not only pathos but a certain amount of dark (if heavy-handed) humor in what Churchill would describe as "the worst disaster and largest capitulation in British history." The story centers on the Blackett family: Walter Blackett is the racist, imperialist head of a British trading firm that has cornered the market in Malayan rubber — and profited massively, via unscrupulous price-fixing, with the approach of war. His daughter, the most eligible bachelorette in British Singapore, is being wooed by Matthew, the son of Blackett's partner, an idealistic and ineffectual humanitarian. In fact, much of the novel is devoted not to scenes of slaughter but the inner workings of the rubber industry — which is Farrell's way of inducing us to see the word through the lens of imperialists for whom profit trumps political, social, or humanitarian concerns. However, when the invasion does happen, there are plenty of chills and thrills for our protagonists.
Fun facts: The first installment in the Empire Trilogy is Troubles (1970); the second is The Siege of Krishnapur (1973). Both won the Booker Prize. Farrell drowned, at age 44, in 1979.
***
JOSH GLENN'S *BEST ADVENTURES* LISTS: BEST 250 ADVENTURES OF THE 20TH CENTURY | 100 BEST OUGHTS ADVENTURES | 100 BEST RADIUM AGE (PROTO-)SCI-FI ADVENTURES | 100 BEST TEENS ADVENTURES | 100 BEST TWENTIES ADVENTURES | 100 BEST THIRTIES ADVENTURES | 75 BEST GOLDEN AGE SCI-FI ADVENTURES | 100 BEST FORTIES ADVENTURES | 100 BEST FIFTIES ADVENTURES | 100 BEST SIXTIES ADVENTURES | 75 BEST NEW WAVE SCI FI ADVENTURES | 100 BEST SEVENTIES ADVENTURES | 100 BEST EIGHTIES ADVENTURES | 75 BEST DIAMOND AGE SCI-FI ADVENTURES | 100 BEST NINETIES ADVENTURES (in progress) | 1994 | 1995 | 1996 | 1997 | 1998 | 1999 | 2000 | 2001 | 2002 | 2003 | NOTES ON 21st-CENTURY ADVENTURES.