Best 1978 Adventures (1)
By: Joshua Glenn
October 21, 2018
One in a series of 10 posts identifying Josh Glenn's favorite 1978 adventure novels. Happy 40th anniversary!
*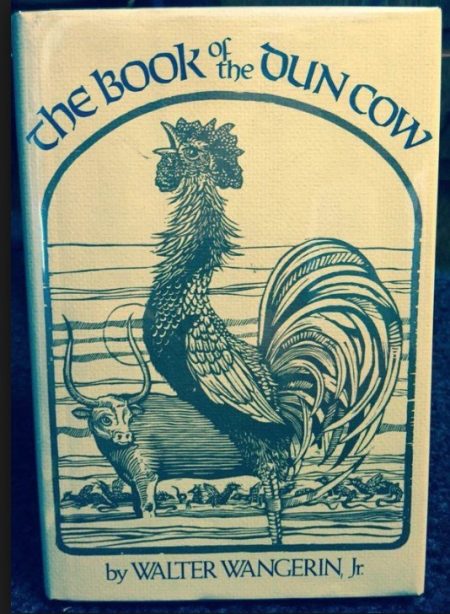 Walter Wangerin Jr.'s Chauntecleer the Rooster fantasy adventure The Book of the Dun Cow.
An epic, apocalyptic retelling of the medieval fable "Chanticleer and the Fox," set in a pre-human version of Earth threatened by an ancient evil Wyrm — who is trapped at the center of the planet! Chauntecleer, our rooster protagonist, commands a community of quirky, flawed, comical, fully realized farm and woodland animals — including Tick-tock, a black ant; sheep, rabbits, a weasel, a goofy wild turkey; and an itinerant, ugly, gloomy little dog called Mundo Cani whom Chauntecleer despises. Theirs is a life of peace and tranquility, but they have grown complacent; as long as they love one another and place their faith in God, the author (a Protestant minister) informs us, the Wyrm will never triumph… but their love and faith is put to the test. Wyrm's half-cock, half-serpent son, the Cockatrice, and a basilisk army take over another farm — refugees from which stream into Chauntecleer's lands. One of these is the beautiful Pertelote, whom Chauntecleer marries, and with who he has three children. Chauntecleer has prophetic visions; a Dun Cow (a figure from English folklore) makes silent appearances; and soon enough the basilisks begin to invade. There are bloody, costly battles; Chauntecleer dons a pair of war spurs and confronts the Cockatrice; and the Wyrm threatens to emerge from underground!
Fun facts: Named The New York Times Best Children's Book of the Year; its first paperback edition won a U.S. National Book Award in the category Science Fiction. There are two sequels: The Book of Sorrows (1985) and The Third Book of the Dun Cow: Peace at the Last (2013).
***
JOSH GLENN'S *BEST ADVENTURES* LISTS: BEST 250 ADVENTURES OF THE 20TH CENTURY | 100 BEST OUGHTS ADVENTURES | 100 BEST RADIUM AGE (PROTO-)SCI-FI ADVENTURES | 100 BEST TEENS ADVENTURES | 100 BEST TWENTIES ADVENTURES | 100 BEST THIRTIES ADVENTURES | 75 BEST GOLDEN AGE SCI-FI ADVENTURES | 100 BEST FORTIES ADVENTURES | 100 BEST FIFTIES ADVENTURES | 100 BEST SIXTIES ADVENTURES | 75 BEST NEW WAVE SCI FI ADVENTURES | 100 BEST SEVENTIES ADVENTURES | 100 BEST EIGHTIES ADVENTURES | 75 BEST DIAMOND AGE SCI-FI ADVENTURES | 100 BEST NINETIES ADVENTURES (in progress) | 1994 | 1995 | 1996 | 1997 | 1998 | 1999 | 2000 | 2001 | 2002 | 2003 | NOTES ON 21st-CENTURY ADVENTURES.