Best 1948 Adventures (6)
By: Joshua Glenn
July 10, 2018
One in a series of 10 posts identifying Josh Glenn's favorite 1948 adventure novels. Happy 70th anniversary!
*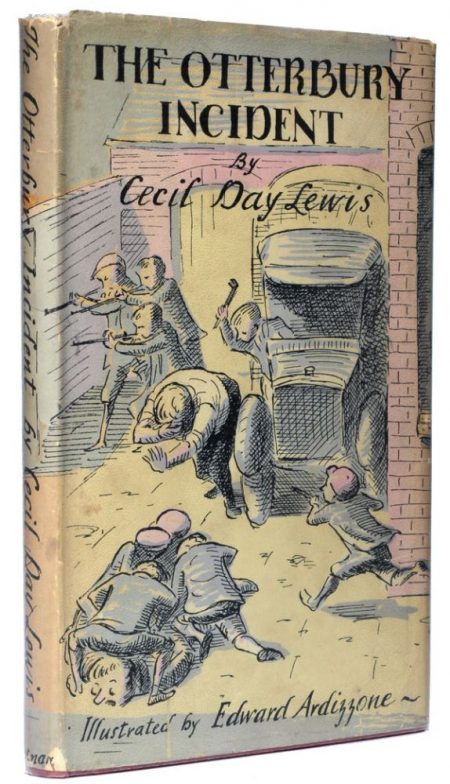 Cecil Day-Lewis's children's adventure The Otterbury Incident.
George, our narrator, is a 13-year-old boy who fancies himself something of a military historian — which makes this a truly enjoyable read, for all ages. In the fictional English town of Otterbury, a war orphan — Nick — is tasked with paying for the damage to one of the school's windows, which he has accidentally broken. His schoolmates — who are divided into two warring factions, known as Ted's Company and Toppy's Company, decide to help him out. (George is second-in-command of Ted's Company; he despises their rivals.) Hostilities are temporarily suspended while the entirely unsupervised boys carry out various money-making schemes. Alas, the local spiv, Johnny Sharp, and his accomplice, "The Wart," steal the boys' earnings. When Sharp threatens them with a razor, and locks them in the tower of the local church, they plan an elaborate counter-attack. Relying on their guerrilla scouting and combat skills they've honed in their own intramural war, they raid a shady warehouse… only to discover evidence of criminal activities from black-market trading to counterfeiting! Now what?
Fun facts: Illustrated by Edward Ardizzone. If the plot of The Otterbury Incident sounds like a French movie about schoolboys running wild, you're right — it's an adaptation of the screenplay for Nous les gosses (Us Kids), directed by Louis Daquin in 1941. Cecil Day-Lewis also wrote murder mysteries — including The Beast Must Die (1938), one of his best — under the pen name Nicholas Blake.
***
JOSH GLENN'S *BEST ADVENTURES* LISTS: BEST 250 ADVENTURES OF THE 20TH CENTURY | 100 BEST OUGHTS ADVENTURES | 100 BEST RADIUM AGE (PROTO-)SCI-FI ADVENTURES | 100 BEST TEENS ADVENTURES | 100 BEST TWENTIES ADVENTURES | 100 BEST THIRTIES ADVENTURES | 75 BEST GOLDEN AGE SCI-FI ADVENTURES | 100 BEST FORTIES ADVENTURES | 100 BEST FIFTIES ADVENTURES | 100 BEST SIXTIES ADVENTURES | 75 BEST NEW WAVE SCI FI ADVENTURES | 100 BEST SEVENTIES ADVENTURES | 100 BEST EIGHTIES ADVENTURES | 75 BEST DIAMOND AGE SCI-FI ADVENTURES | 100 BEST NINETIES ADVENTURES (in progress) | 1994 | 1995 | 1996 | 1997 | 1998 | 1999 | 2000 | 2001 | 2002 | 2003 | NOTES ON 21st-CENTURY ADVENTURES.