Best 1943 Adventures (8)
By: Joshua Glenn
June 17, 2018
One in a series of 10 posts identifying Josh Glenn's favorite 1943 adventure novels. Happy 75th anniversary!
*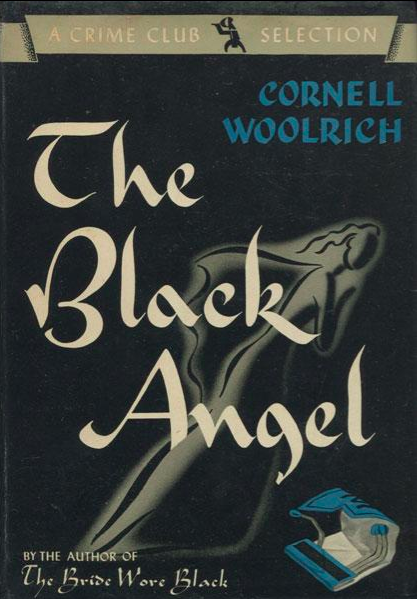 Cornell Woolrich's crime adventure The Black Angel.
Cornell Woolrich pioneered what has come to be called noir (as opposed to hardboiled) fiction, i.e., in which the protagonist is usually not a detective, but instead a victim, a suspect, or a perpetrator, and in which sex plays a prominent role. The protagonist of The Black Angel, one of his better efforts, is Alberta, a naive young newlywed who — upon discovering that her beloved husband, Kirk, is cheating on her — pays a visit to his mistress, only to find that she's been killed. Kirk is arrested and convicted of the crime… and he faces the electric chair, unless Alberta can prove that he's innocent. Racing against the clock, she descends into New York's underworld, tracking down and destroying one after another of the dead woman's lovers (an ex-husband, a drug-dealing doctor, a rich playboy, a gangster), and doing whatever it takes — no matter how sinful — to succeed in her quest. It's a tense thriller, with a savage kick: Even if Alberta saves Kirk from execution, will she be the same person that she used to be?
Fun facts: The titles of this and other Woolrich novels — e.g., The Bride Wore Black (1940), The Black Curtain (1941), Black Alibi (1942), The Black Path of Fear (1944) — inspired French critics to call movies based on them "noir." The Black Angel is a "fix up" of two earlier stories: "Murder in Wax" and "Face Work." It was adapted in 1946 by Roy William Neill; the film stars Dan Duryea, June Vincent, and Peter Lorre.
***
JOSH GLENN'S *BEST ADVENTURES* LISTS: BEST 250 ADVENTURES OF THE 20TH CENTURY | 100 BEST OUGHTS ADVENTURES | 100 BEST RADIUM AGE (PROTO-)SCI-FI ADVENTURES | 100 BEST TEENS ADVENTURES | 100 BEST TWENTIES ADVENTURES | 100 BEST THIRTIES ADVENTURES | 75 BEST GOLDEN AGE SCI-FI ADVENTURES | 100 BEST FORTIES ADVENTURES | 100 BEST FIFTIES ADVENTURES | 100 BEST SIXTIES ADVENTURES | 75 BEST NEW WAVE SCI FI ADVENTURES | 100 BEST SEVENTIES ADVENTURES | 100 BEST EIGHTIES ADVENTURES | 75 BEST DIAMOND AGE SCI-FI ADVENTURES | 100 BEST NINETIES ADVENTURES (in progress) | 1994 | 1995 | 1996 | 1997 | 1998 | 1999 | 2000 | 2001 | 2002 | 2003 | NOTES ON 21st-CENTURY ADVENTURES.